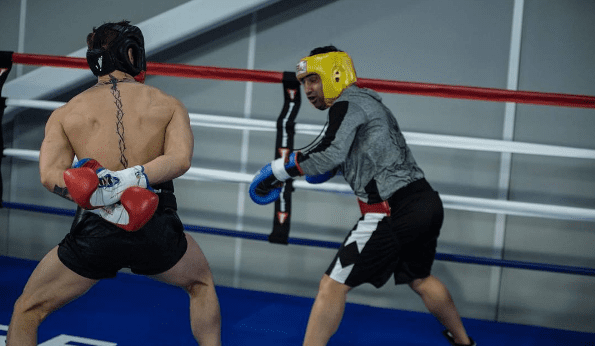 While Conor McGregor vs. Floyd Mayweather might be the biggest professional fight of all time, McGregor vs. Paul Malignaggi looks as if it's starting to be the most infamous sparring contest.
Recently, Malignaggi has made plenty of headlines after being displeased with pictures of his sparring with McGregor posted to Instagram. One of the pictures in particular — which shows Malignaggi with his back to the canvas — caused a furore amongst fans.
There no conspiracy, there no photoshop just pure unadulterated power pic.twitter.com/sqQoc3zgrn

— Dave Fogarty (@DavidGbd) August 4, 2017
Since that photos release, Malignaggi has consistently claimed that it was a pushdown not a knockdown that caused him to fall to the floor. According to another sparring partner, Tiernan Bradley, who was present at the time, that wasn't the case.
"Having been here the whole time, some of the things he has come out with in the last seven days have taken me by surprise," Bradley wrote in his latest column for IrishNews.com "Paulie came out smack talking from the start, he was saying 'wipe that smirk off your face' because Conor was smiling at him, that kind of thing. Conor stayed very professional; Paulie was saying stuff and then getting hit. Conor chose his moments to talk back. There are tactics to mental warfare too, knowing when to talk, and then there's stupidity.
"It wasn't a one-sided spar either way but I thought one was the clear winner overall and that was Conor. He was very calm, very professional and, honestly, he really impressed me on the day. That's just my opinion, people can make up their own minds when they see the video. Paulie has done plenty of talking, but he could be talking himself into a hole when the footage comes out after the Mayweather fight.
"He was talking to Mayweather's guys, talking to pro boxers and doing interviews – what did he think was going to happen? Did he expect to just come in here and talk shit?"
Comments
comments