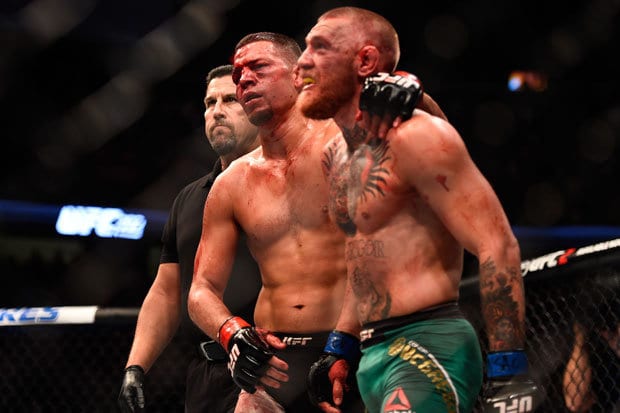 Nate Diaz might consider Conor McGregor one of his rivals — particularly after the two incredible fights they had last year — but he's not been shy about giving his old foe props ahead of McGregor's contest with Floyd Mayweather.
Speaking on the "Against All Odds with Cousin Sal" podcast, recently, Diaz went on record to say he believed the Irishman had a better chance at toppling Floyd than most people realised.
"I think he has a great chance," Diaz said. "I've fought the top pros in the fight game, the best fighters in the world, and done better than a lot of them. I fought Conor for 25 minutes, I believe he's definitely going to have a chance. Fighting and beating the best boxer pound for pound in the world right now? That's another story but a fight's a fight and we're going to have to watch and see what happens. Hopefully it will be a hell of a fight."
Another reason Diaz appears to be (at least partially) backing McGregor is the repeated knocks the boxing community is giving the UFC lightweight champion.
"The boxers, every fucking pro boxer is saying something and all this criticism, and I think it's a better option is to keep your opinion out of it," Diaz said. "What happens when Conor wins, let's say he wins, and all this shit these boxers talk … oh you thought you knew but you don't know shit because you say stuff like he doesn't stand a chance. They should know, being fighters, in a fight, everyone stands a chance, and if they're saying that there's no chance, that's a problem.
"The ignorance is crazy. Because no one actually knows except for a fighters like me and my brother who have sparred with the high-level pros. I know if I went into a fight like that, I'd be like 'don't ever count me out, watch me win this shit,' so I've got to believe that the more people talk like that, gives him more of a chance of having more and more motivation. That makes things more entertaining, more interesting."
Comments
comments