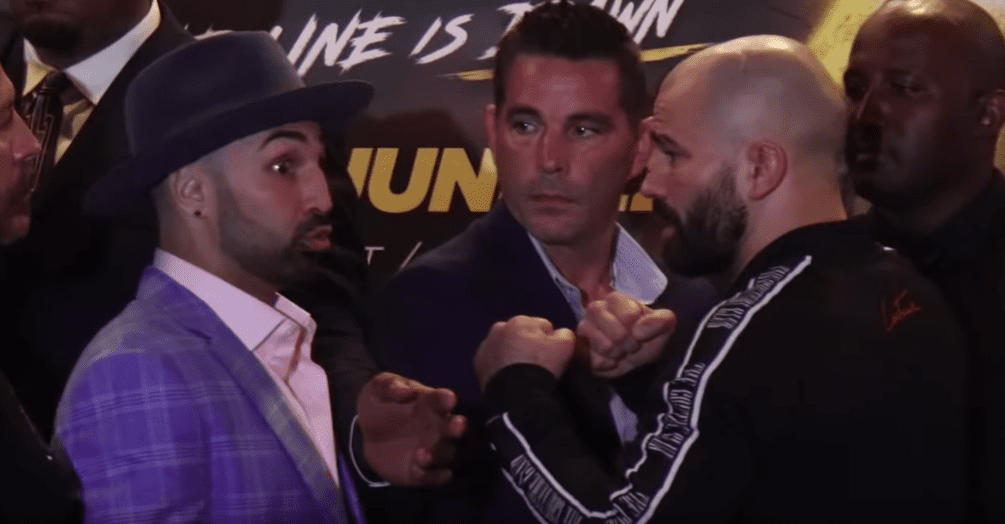 Retired boxer and occasional commentator Paulie Malignaggi certainly hasn't made any friends in the mixed martial arts community given his recent antics ahead of his June bareknuckle boxing bout opposite Artem Lobov. 
In a press event a number of weeks ago Malignaggi was resoundingly criticised for 'slapping' Lobov during a media confrontation. More recently, Maligaggi drew the ire of just about everyone who witnessed a second presser to promote the June 22 scrap when he told Lobov that if he continued to point his finger at him, he would strike him.
However, after Lobov called his bluff Malignaggi opted to instead spit at his opponent. Unfortunately, the loogie landed squarely on the cheek of BKFC President David Feldman. Oh dear.
Former UFC middleweight champion Michael Bisping was among those who watched the presser with interest and he spoke of his disgust as Malignaggi's actions on the most recent episode of his Believe You Me podcast.
"Don't get me started on spitting on him," Bisping announced. "Any motherf*cker that shows up wearing a hat like that deserves to die. It's as simple as that. I'm sorry. You look like an absolute tit. He looks like a villain out of the Dick Tracy movie. You know what I mean? He might as well have had a pinstripe suit on, that big stupid gangsta hat.
"Oh my god, it did not look good. I'm sorry, maybe I don't get it. Maybe I'm not Italian from Brooklyn, or whatever the f*ck you say Paulie. Maybe that's their thing, but I'm telling you, you look like a tw*t. And any man that runs around, I don't care if you're at the beach, I don't care if you're, whatever pastime you are taking part in. If you go out wearing a fedora, you are a c*ck. Plain and simple."
Artem Lobov vs. Paulie Malignaggi will take place in Tampa, Florida on June 22.
Comments
comments