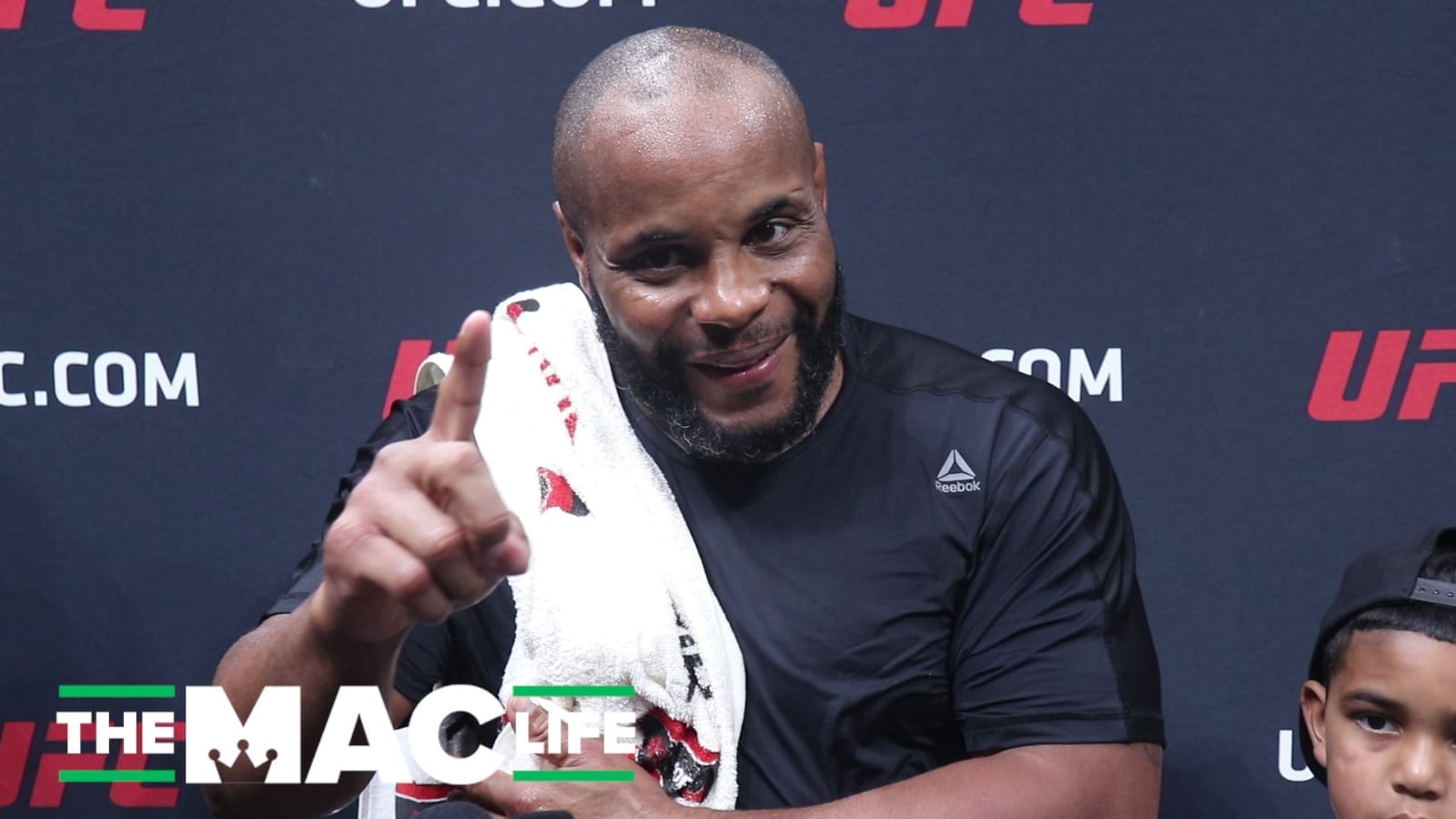 Last weekend's UFC main event fight between Leon Edwards and Belal Muhammad has given more air to one of the mixed martial arts' more enduring debates: how do you lessen the impact of unintentional eye-pokes?
In the second round of their fight inside the UFC Apex, Edwards pawed out with his hand and accidentally poked a finger into Muhammad's eye — with the clearly distressed fighter subsequently deemed unable to continue and the fight called as a no-contest. Often when situations like this arise, it leads to discussions about how it could be avoided — with more now suggesting that MMA gloves be modified to cover the fingers.
And Daniel Cormier, victim of more than one eye-poke throughout his career, says that there is no clear answer.
"A lot of times when you poke eyes, you are trying to grab," Cormier said to Ariel Helwani on ESPN."If your fingers aren't allowed to open or straighten, I think that you could eliminate some of the eye poking but the reality is, there's gonna be issues with the gloves being curved if we go forward. My thing is this, you're never gonna find something that works perfectly. There's gonna be issues with everything and I don't know what it's gonna take in order to stop eye poking. I believe eye pokes will still happen, maybe not as frequently but they will still happen.
"Eye pokes happen just about every fight. The big one that just happened with Belal, is probably — when was the last time a big one like that happened where it was so damaging?"
But for curved gloves to be a success, Cormier says they must be designed by someone who knows fully how they should be used in a fight.
"I do believe that the rounded glove could help, so long as it's not so rounded that it's making it into a fist. You just don't want it into a fist. You want to be able to manoeuvre and use your hands. So if it's just a little curve, just to bend the front, okay, but not anything that makes your fingers kind of all the way go forward.
"This thing that they started implementing, where you're supposed to have your hand up, has helped, but the reality is, you're in a fight," Cormier added. "Sometimes those things happen. Unfortunate that it happens in those big spots. So yeah, I'm all for different designs on the gloves but I do believe that with the different designs, I don't know what the issue will be but there will always be something. In a fist fight, it's never perfect… There's always gonna be issues but we should do whatever's necessary to limit those things."
Comments
comments