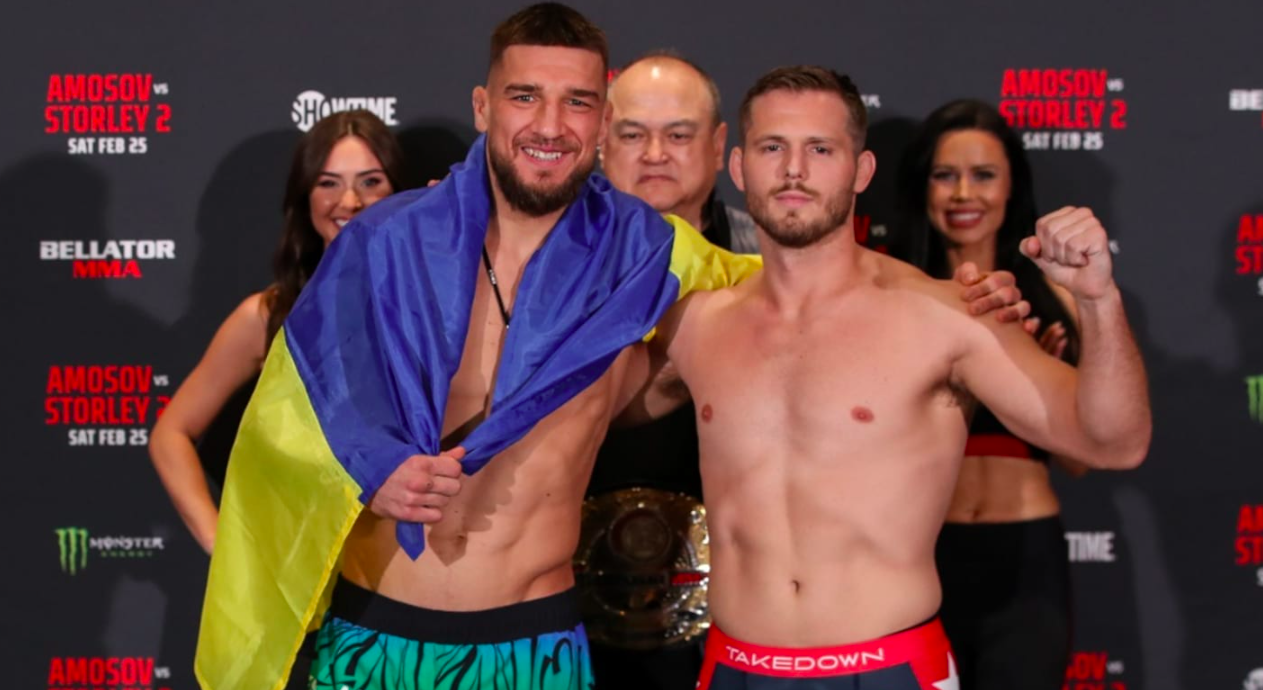 For much of the past year, Yaroslav Amosov has been engaged in a different type of fight. 
On Saturday night in Dublin in front of a raucous crowd packed into Dublin's 3Arena, unbeaten Ukrainian standout Yaroslav Amosov stood on the verge of what was considered to be the toughest test of his mixed martial arts career. Standing opposite him inside the Irish capital was the 14-1 Logan Storley, a fighter whose sole career defeat came years earlier to Amosov via split decision, and who had spent the intervening time sharpening his tools in advance of upgrading his own 170-pound title from interim to undisputed.
But when that first bell rang, it soon became clear that losing simple wasn't on the agenda for Amosov. Perhaps steeled by the events which have transpired in his country across the past 12 months Amosov was rarely on the back-foot throughout the 25-minute contest, as he melted Storley's challenge away with a mix of walk-forward aggression, and expert counter-wrestling exchanges.
View this post on Instagram
And when the judges gave him a lopsided decision to improve his record to a sensation 27-0, Amosov made clear who — or what — it was that he was fighting for.
"One year ago yesterday, crazy [Vladimir] Putin started a big war in my country," Amosov told John McCarthy in his post-fight interview to an audience which contained several Ukrainian flags. "He wants to kill kids and every person who is Ukranian. Thank you to the Ukranian army for defending my country, thank you to whoever helped my country. Please don't forget what's happening.
"I feel very good because I waited for this for a long time," Amosov added afterwrads. "I train hard training, and I feel a lot of motivation and responsibility. I'll relax after the fight, and I'm happy because I think I gave my country a good day. It's the first time I've had big support in the cage. In America, I've had support, but not like today — many Ukrainian flags, many Ukrainian people.
"Thank you for my country. Thank you for my army and the fans. It was for my country. Today, I think it is a very good day for my country to hold two gold belts."
Comments
comments