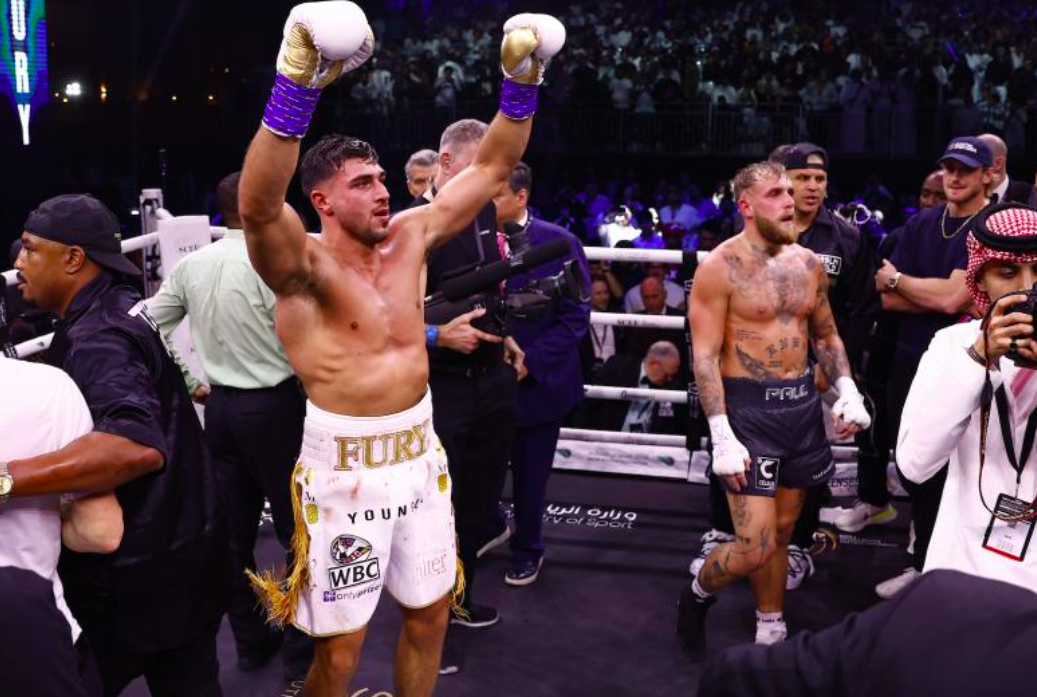 After more than two years of hype, Tommy Fury emerged with his reputation intact after eight rounds of boxing with Jake Paul.
Paul, arguably the biggest banana skin in all of prizefighting, had promised that Fury wasn't aware what he was getting himself into against the neophyte YouTuber-turned-boxer, but in the end it was Fury's technique — authored by a consistent jab — which proved to be too much for Paul, who was the clear second-best fighter in the ring in spite of one judge awarding him a razor-thin advantage on the scorecards.
Fury started the quicker of the two, opening up an early lead before Paul appeared to get a bit more comfortable in the middle rounds. Both men had a point deducted by a Panamanian referee who was perhaps a bit too officious in the ring, before Paul looked to have forged an opportunity for himself with a late (and legitimate) knockdown of Fury.
But after eight rounds and twenty-four minutes, it was Fury who looked the more effective of the two and when he had his hand raised following the announcement of his split decision win, the relief of pressure — which he had worked so hard in the buildup to ignore — became apparent.
"For the past two years this is all that has consumed my life," Fury, 23, said afterwards. "Everybody thought I was running scared but tonight I made my own legacy. This is my first main event, I am going to get bigger and better and if he wants a rematch, bring it on.
"All the way through, I had a dream and a vision that I would win this fight but now everyone can stand up and take note. I had pressure on my shoulders and I came through. This to me is a world-title fight – it was my destiny."
Paul, for his part, congratulated Fury after experiencing the first loss of his improbable boxing career.
"All respect to Tommy, he won. Don't judge me by my wins, judge me by my losses," he said. "I don't know if I agree with the judges, it is what it is but that is the boxing world. I have won in every single way already in life," he added. "I have made it further than I ever thought. I'll take it on the chin but we can run it back."
And run it back they most likely will, after Paul indicated that he will activate the rematch clause in his contract.
Comments
comments