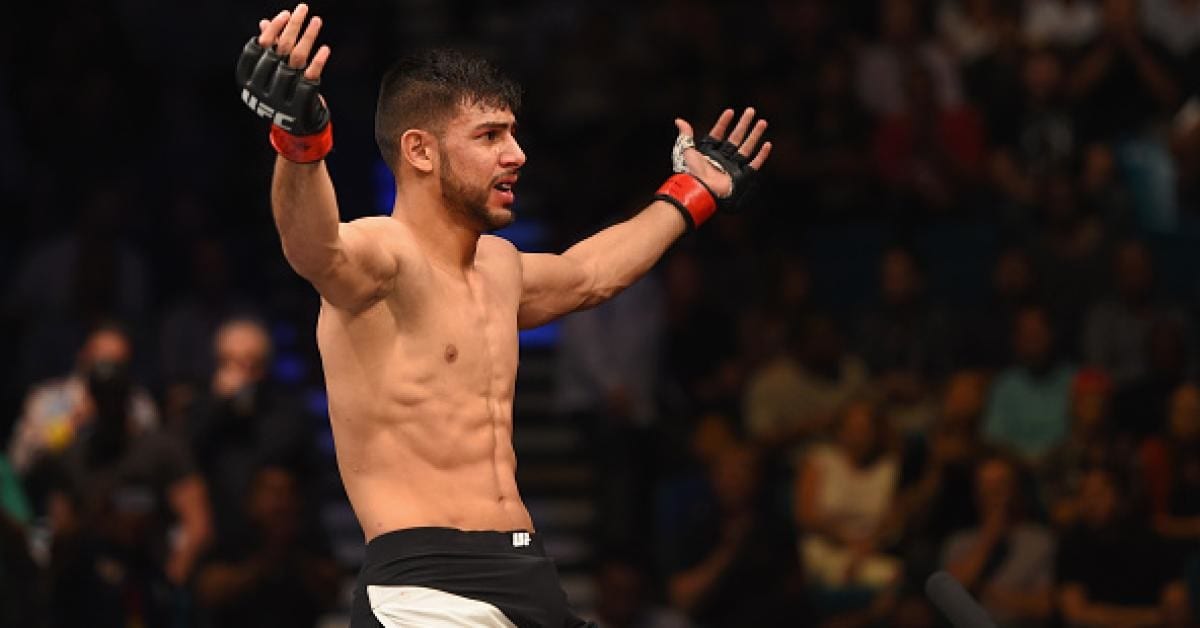 There are two sides to every story, and Yair Rodriguez' perspective on being released by the UFC is quite different than the one offered by UFC president Dana White.
Rising star Rodriguez was let go by the promotion two weeks ago in a fairly stunning move. According to White at the time, the decision came after Rodriguez had turned down multiple fights, including contests with Ricardo Lamas and Zabit Magomedsharipov.
The whole affair had an air of ill feelings, with White referencing a tweet by Rodriguez (the featherweight posted "fake news" in reply to a story his fight with Magomedsharipov was booked), posting 'Real News'.
Speaking in a lengthy interview on MMAFighting's The MMA Hour, Rodriguez revealed that White's version of the story wasn't exactly the entire tale.
"Everything starts back after my loss against Frankie Edgar," Rodriguez said. "I think that put me in a bad situation, because I was for a long period of time without a fight, and I think people was wondering where I was — why after I loss I haven't fight, and they're starting to realise I was kind of afraid or I didn't want to fight anymore. But it wasn't like that, I honestly have a lot of [projects] to solve.
"I started accepting fights in February, I get in talk with Sean Shelby, I was told I was going Josh Emmett in February, in Orlando, Florida to headline. And I accepted, I stepped up. I later learned Josh Emmett wouldn't accept the fight, or I don't know the UFC didn't want to give it to me, or whatever. And then I realised [he fought] Jeremy Stephens. Jeremy Stephens took that fight.
"After that we sit back in with the UFC and talk about few other opponents. I talk to Sean Shelby, he told me, 'what do you have in your mind?' I told him, 'I think I at least deserve a top ten. No matter what happens I think I at least deserve a top ten.' Just because of what I already show in the UFC. I'm 6-1 in the UFC, not all the fighters in the UFC have the same record as me, I know I'm still a rising star."
Then came the aforementioned Zabit Magomedsharipov fight. After receiving plenty a large amount of messages from fans online, Rodriguez, believed it was a contest he should consider — despite being higher in the rankings than the Russian. The only thing was, Rodriguez wanted to treat it like the big fight he thought it would be.
"I started looking at this other fight with Zabit. It was making a lot of sense for me because of the stylistic matchup and stuff. We saw big potential of renegotiating my contract. There was a negotiation that if they wanted me to fight him in LA [at UFC 227], which, I said I'll fight him in LA, of course, but [only] if you pay me more, because I had saying for the last year that I wanted to fight a top 10 [opponent].
"I'm not picking my opponents. I'm just saying I deserve a top 10. Anyone. I actually asked for 'Korean Zombie' as well, but they told me he wasn't ready, even though he posted some stuff on Twitter saying that he wanted to fight Frankie.
"I was like, okay, I'll fight Zabit if you give me more money in LA, because I understand how big of an event it is, and they said no. I was like, okay, if you don't want to give me more money to fight him in LA, why don't you give [the fight] to me in Russia, and there's no need to do any negotiation for that. I want him in Russia. Why? Because he was calling me out. I'm the guy who, I never say much, I just act. I don't have to be talking about this on my social media.
"They didn't even want to give it to me in Russia. Then I was like, okay, you don't want to give me more money to fight him in LA, you don't want to give me a top-10 [opponent]. Now I'm looking — now I see how the things are going."
Comments
comments