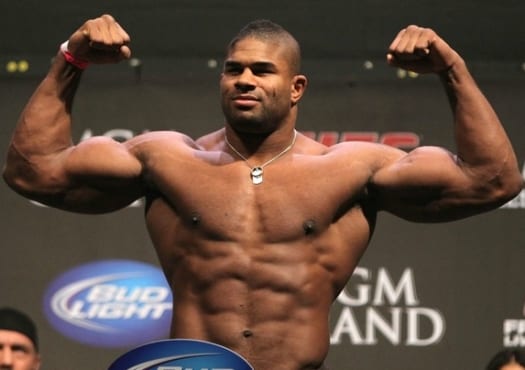 It's usually believed that fighters want to be considered the main event of the show. It's a position of prestige and importance. If you can't go on last however, then it becomes about as close as you can get. For Alistair Overeem and Curtis Blaydes however, it's actually not that big a deal. 
The two UFC heavyweights were originally meant to meet on the UFC 225 main card in Chicago next month, only to find they had been sent back to the preliminary card to make way for Holly Holm vs. Megan Anderson.
While it might make sense — Holm vs. Anderson would have more direct impact on their respective division's championship — it wouldn't be unusual for fighters to find a level of disrespect in the relegation. Not these two however.
Both men appeared to be relatively satisfied with the decision, pointing to the fact that it doesn't affect them in anyway other than they get to be done earlier in the evening.
Just found out that our fight June 9 is on the prelims?! What do you guys think of that decision? #ufc225 @UFCEurope @ufc pic.twitter.com/zxMSkNCCdf

— Alistair Overeem (@Alistairovereem) May 20, 2018
For the record I have no problem with the decision because now people in Europe don't have to stay up late and the sooner the better.

— Alistair Overeem (@Alistairovereem) May 20, 2018
🤷🏾‍♂️ we're still getting paid right https://t.co/CU8QzHUIa0

— Curtis Blaydes (@RazorBlaydes265) May 20, 2018
Whatever the ppl want it's fine with me man we're still gonna put on a show main card or not 🙂

— Curtis Blaydes (@RazorBlaydes265) May 20, 2018
–
Comments
comments