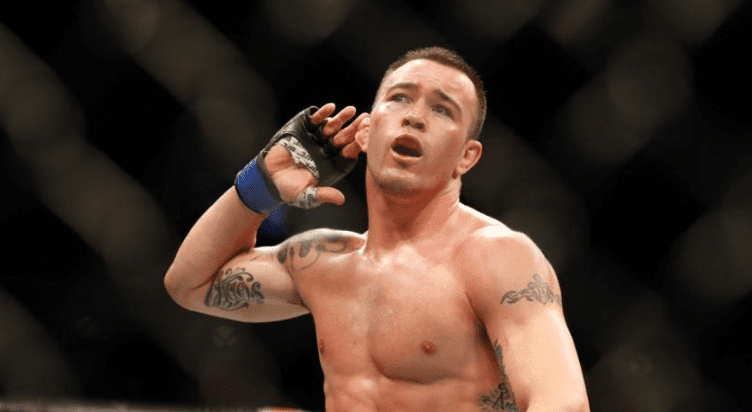 Colby Covington is certainly pulling out all the stops when it comes to his UFC Newark main event clash with Robbie Lawler on Saturday.
After it was confirmed the Donald Trump Jr. and Eric Trump, the eldest sons of US President Donald Trump, will support Covington from cageside this weekend it has also emerged that WWE Hall of Fame superstar (and legitimate Olympic gold medal winning wrestler) Kurt Angle has granted permission for Covington to use his famous wrestling theme.
Angle has walked to the ring with this theme in the WWE since his debut 20 years ago and it has become synonymous with the sports entertainer, as well as being embraced by fans who have been known to sing 'You Suck!' during musical interludes in the song — something Covington appears to, well, covet.
ESPN's Ariel Helwani broke the news as such:
From today's The MMA Reporters:@ColbyCovMMA has gotten permission from @RealKurtAngle to use Angle's theme music for his entrance on Saturday. Covington's friend @fightbobby brokered the deal. Colby inviting the "you suck" chants before the fight.

Full: https://t.co/Yo6jLKxlS2 pic.twitter.com/rt1l5S0e5y

— Ariel Helwani (@arielhelwani) July 31, 2019
'He's a winner who talks a lot of trash, but always backs it up': Donald Trump Jr. confirms he will support Colby Covington cageside this weekend | https://t.co/3n653wlXpa pic.twitter.com/8BbTWXKjTX

— TheMacLife (@Maclifeofficial) August 1, 2019
Current WWE star and occasional mixed martial artist Bobby Lashley acted as the go-between for both parties to arrange the agreement, saying (via WrestleZone): "He [Colby Covington] has reached out, through a friend, to Kurt Angle, the former WWE Champion, who's theme song was very popular while he was an active wrestler.
"It was popular because fans loved to chant 'You suck!' in the middle of the theme song. So the song would go something like 'dun da da dun dun, you suck, you suck' – the fans just couldn't help themselves. He has asked Kurt if he can use that song because he wants people to chant 'You suck!' as he makes his way to the cage. So that's a guy who clearly is very comfortable being booed."
We can say with a great deal of authority that all of the above will have absolutely no impact on how Covington's opponent on Saturday, Robbie Lawler.
Comments
comments