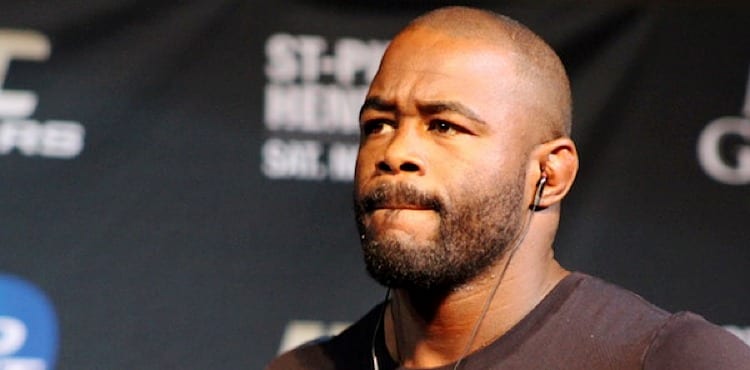 It was a frustrating 2016 for Rashad Evans.
A loss in April to Glover Teixera — his second straight defeat since returning from injury — convinced the former UFC light heavyweight champion that his future in the sports lies a division below at middleweight. Since making that call, however, Evans has experienced a series of frustrations and false starts but, as he told Ariel Helwani on The MMA Hour on Monday, the former 205-pound kingpin is healthy once more and is itching to get back into the cage.
Evans' middleweight bow was due to take place at UFC 205 in New York against former training partner Tim Kennedy in November but 'Suga' was scratched from the card just days prior after complications in his pre-fight medicals forced the hand of the New York Athletic Commission to remove him from the card.
The Kennedy bout was swiftly rescheduled for UFC 206 in Canada but the Ontario Athletic Commission, citing similar concerns to their New York counterparts, also pulled Evans from the event.
Throughout all of this, Evans claimed to be healthy. Elaborating on the issue with Ariel Helwani on Monday, Evans said that the reasoning for the medical concern actually boils down to an error from his radiologist.
"I'm going to fight. What happened in New York was a misunderstanding with the brain MRI thing. The radiologist read the same radiology exam, and then gave two different assessments of it," Evans said.
"For 2013 he said it was fine and nothing wrong with it, then for 2016 he was looking at the same identical image and then he said I had new changes; which to he commission was like if you have changes to your brain is injured then you can't compete. Upon further review after having everything tested and looked at, it was pretty clear what happened, and it was just a radiologist not doing his due diligence. At the end of the day it cost me, it is what it is and I was able to put it behind me and move forward."
As for his return to the cage, Evans says that he will be ready to compete by March or April. Anderson Silva was the ideal opponent he was targeting but with 'The Spider' now booked to face Derek Brunson at UFC 208, that leaves Evans' appointment book empty for now.
Having competed in the cage just twice since the end of 2013, just getting back to being a healthy, competitive athlete would be a victory in itself for Rashad Evans.
Comments
comments