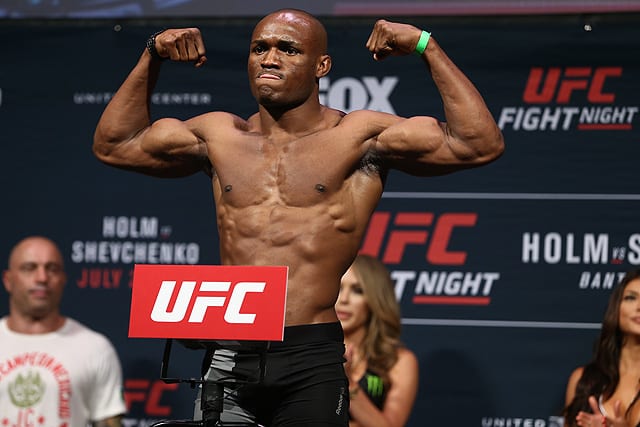 Over the past few months, the UFC welterweight division has become one of the most talked about in the sport of mixed martial arts.
With new names like Colby Covington, Darren Till and Kamaru Usman emerging as legitimate contenders — combined with the more established Rafael Dos Anjos, Stephen Thompson and Tyron Woodley — means 170-pounds is filled with exceptional talent.
And while there was something of a logjam earlier this year, it seems the talent is starting to want to fight each other without reservations. Take Usman's comments on MMAFighting's The MMA Hour this past Monday.
With Covington and Dos Anjos meeting each other this weekend at UFC 225, Usman believes he knows the other elite welterweight match up fans want to see. Usman vs. Till.
"Now, let's be honest everybody wants to see me fight somebody," Usman said. "You know who that is? They just fought. I think honestly I'm about one win away from the title, we can agree on that.
"Obviously everybody wants to see me beat up Colby Covington, but he is going to fight for the interim belt and should he win that fight, he will get Tyron Woodley for the title. Darren Till is really the guy. He is a tough guy and I know he likes to fight and he comes to fight, but has he been tested against a guy like myself.
"Everybody wants to see it, the fans, the media wants to see it. I know he's a tough guy, good striking. I might not be the best striker, the best jiu-jitsu guy and I might not be the best wrestler; but when I put it all together I'm a bad motherfucker to deal with. That's a fight I think interests the fans and that's what I want right now. If you're not going to give me Woodley, that's the fight I want right now. He's a tough guy and I like everything that he does."
–
Comments
comments