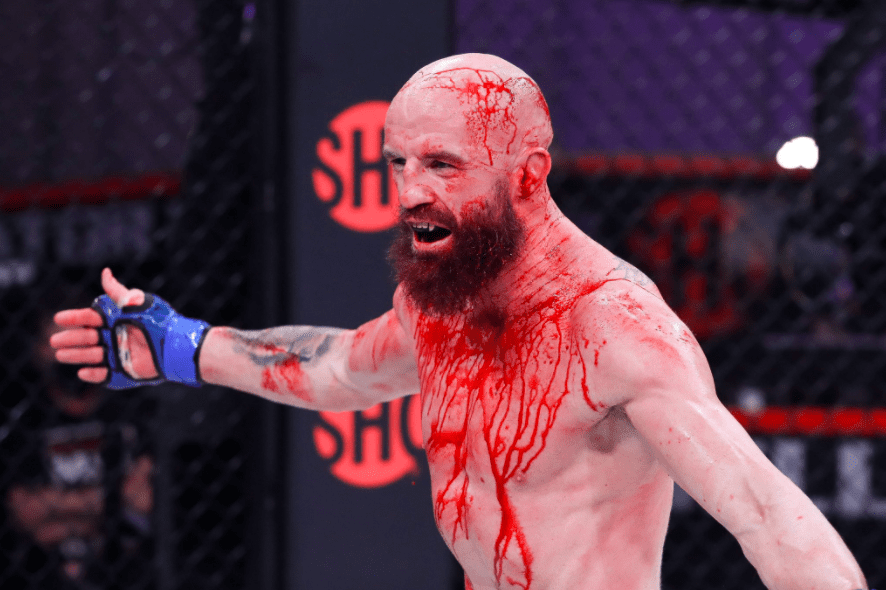 If title belts were handed out for air miles travelled, Peter Queally would be a world champion several times over. 
A decade or so into his mixed martial arts journey, Queally has arrived on the doorstep of his first major world title opportunity but the platform he will occupy when he makes the walk inside Dublin's 3 Arena on Friday evening certainly hasn't come easy. The Waterford man's earlier MMA apprenticeship saw him parlay a promising amateur career into the professional ranks, winning eight of his first eleven bouts in a range of different promotions and territories.
Cage Warriors, Extreme Fighting Championship, BAMMA and event the short-lived Venator FC all called for 'The Showstopper' to feature on their events as Queally bolstered his reputation as a gritty, hard-nosed fighter unafraid of venturing into enemy territory when the occasion called for it.
And enemy territory was where Queally was a specialist. Italy, Poland, South Africa… you name it. If there was a cage there, odds are Queally has been involved in spilling someone's blood in it. Then, in 2017 came a series of bouts under the Fight Nights Global banner which saw him compete in Russia and Kazakhstan — culminating in a sensational first-round finish of the then 24-3 Armenian standout David Khachatryan, a win which put him on the cusp of a world title thousands of miles away from his homeland.
But then Bellator came calling. A now infamous win against Ryan Scope in a thunderous 3 Arena segued into a TKO (cut) win against Patricky Freire this past summer  in the United States — and this time it is the Brazilian Bellator veteran who travels to Dublin to rematch the Irishman in front of his raucous support.
The prize? Bellator's vacant lightweight world title, and a place in the history books as Ireland's second-ever world champion in a major MMA promotion.
View this post on Instagram
"Winning a world title is my dream," Queally said of the upcoming challenge. "It's been my dream, and it's started getting more realistic in the last few years. It's really tangible now. To be honest, if you had asked me 10 years ago when I started, if you told me I was going to be fighting for a world title, I'd be like 'get out of here! It's so unattainable, it's such a hard mountain to climb.'
"But I've experienced that in my career, I've taken on all comers, I went everywhere, and I know the standard that's out there. And so for me to be here in a world title fight, I'm just very proud of myself that I've got here."
Freire, one half of the infamous Pitbull Brothers who have become synonymous with Bellator over the years, will no doubt present a stern test but it is one that Queally has already passed several months ago.
"I am the number one lightweight in the organisation," he declared. "I've just beaten the number one lightweight in the organisation, Patricky is ranked number one. And I've just beaten him. I'm the number one. Patricio is gone.
"I feel totally in my prime. I do a lot of very intense cardio training, and it's all measured. It's been measured for years. And my numbers are still creeping up. I'm still slightly even improving.
"My skillset, I feel like I'm in my prime. And also in the last year or two, I feel I really mentally discovered how to use my skillset better. So I made a big improvement there. I feel like everything is blending in together for a big, big performance for me. I'm just really relishing it. I can't wait."
And while Queally knows what to expect from his home country fans, he says that Freire will be walking into a cauldron on Friday.
"They always say the same thing, that they're looking forward to it," he said. "But I think when they get in there, it's a bit different to what they think it's going to be. It hits you like a wall when you come down that ramp, all the noise. And it's all going to be boos for him, so I can only imagine what that's going to be like."
Comments
comments