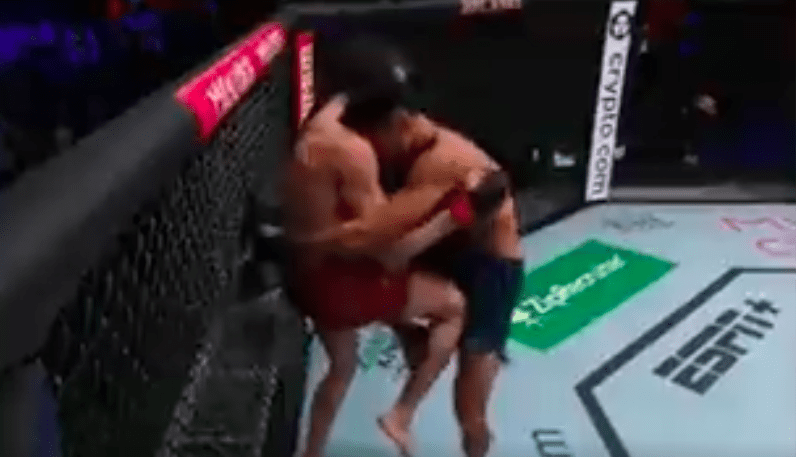 Once upon a time a double knockout was the rarest sight in mixed martial arts but that has been seriously one-upped by a spectacular 'double nut shot' on Tuesday's edition of Dana White's Contender Series.
Jonas Bilharinho, who some might recall as the fighter drafted in to Jose Also's camp to mimic Conor McGregor prior to the world title fight at the tail end of 2015, has long been viewed as a potential UFC fighter and he had his chance to impress White when he took on fellow UFC hopeful Canaan Kawaihae in Las Vegas — and despite winning the fight by spectacular spinning hook kick, it was something that happened a little earlier in the contest which has garnered much of the headlines: yep, you guessed, it a double nut shot.
Double low blow. pic.twitter.com/1CdKGSJKbY

— Jed I. Goodman © (@jedigoodman) November 3, 2021
Jonas Bilharinho, Senhoras e Senhores! pic.twitter.com/b7J28ly2tx

— Matheus Shinoda (@matheus_shinoda) November 3, 2021
The offending and simultaneous blow collapsed both Bilharinho and Kawaihae to the canvas as they took several moments to compose themselves, and prompted Herb Dean to tackle not one but two injured fighters.
A second highlight reel moment was also forthcoming, as Bilharnho finished the fight in spectacular fashion — but despite the spectacular finish, the Brazilian fighter apparently didn't do enough to impress Dana White and wasn't offered a UFC deal.
But he'll always have this.
Comments
comments