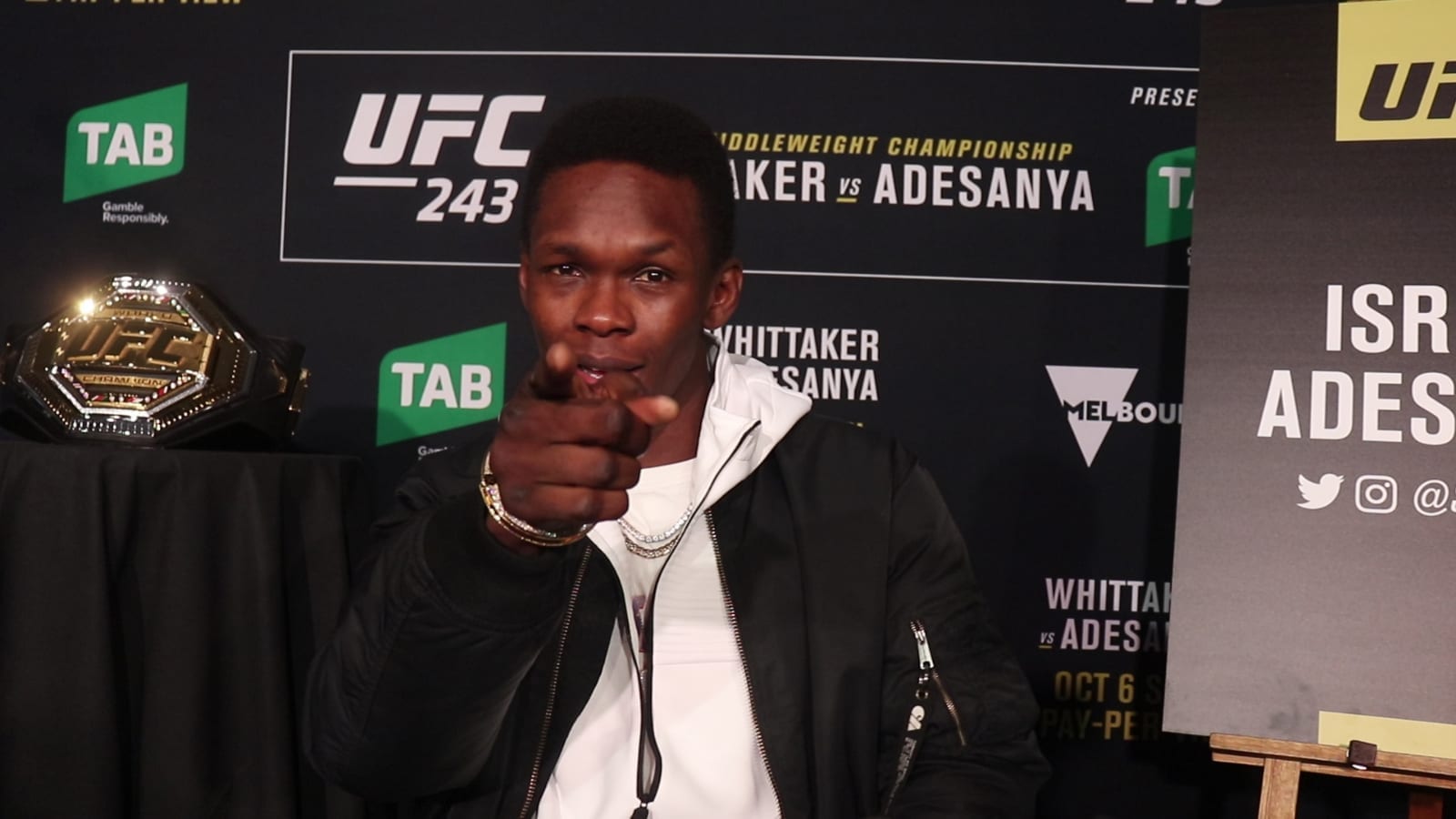 You've got to hand it to UFC middleweight champion Israel Adesanya, a fighter who certainly isn't here just to make up the numbers. 
The recently-crowned New Zealand sportsperson of the year is a couple of weeks removed from defending his crown against Yoel Romero and despite the well-worn maxim of never looking past one's next fight, the eye-catching striker has engaged in a very public war of words with 205-pound champ Jon Jones ahead of a prospective move up a division in the future — but it doesn't seem like he is stopping there.
City Kickboxing's head coach Eugene Bareman, one of the chief influences in Adesanya's fight career, says that his fighter also has designs on the UFC's heavyweight title and he will one day go after Stipe Miocic, or whoever holds it at the time, in an effort to become a multiple weight world champion.
"Israel stated, and I think it's a very good plan, he's gonna do his thing in the middleweight division," Bareman said to Submission Radio, via MMA Fighting.
"There's some really tough challenges. He should clear those out. There's at least three or four more good challenges. But three or four more fights for Israel is like maybe within this year. So, after that, what's the next challenge? For him, and we've done it in all the sports that we've participated in, it's to move up in weight. And trust me, if he has these three or four more middleweight fights, we will push to fight Stipe [Miocic], a hundred percent.
View this post on Instagram
"Yeah, that's the fight. . . If Israel can get the business done at middleweight, and if he's successful he will definitely look to move and challenge Stipe. That's a serious thing. But for us, we're not paying immediate attention to it. There's just so much that we have to put our concentration into now that it's on the back burner. It's in the back of our minds. So, yeah, let's see if that hurries along Jon Jones," he said with a chuckle."
Adesanya has already predicted that he will face Jon Jones in the new Raiders stadium in Las Vegas in International Fight Week 2021 but Bareman says that it is he, and not the fighter, who decides the next steps on what is fast becoming a legendary fight career.
"I mean, that's the thing, it's not up to Israel. I make the decision on the fight," Bareman said. "So, come 2021, Israel has to convince me that we should fight Jon Jones. And if I don't feel that we have to, then it's not gonna happen. It's not even Israel's call.
"There's a lot of things that [Adesanya] would have to do [to convince me], and a lot of those things that he'd have to do to fight Jon start now, that've already started. There's a lot of stuff that we have to do. For all of Jon Jones' faults as a person, he's still a very, very good fighter and to prepare for someone of that nature, who's that good, the prep for that sort of fight starts now. Yeah, but I've already stated that I don't think that fight's necessary. . . I think we're on a different path, I just think we're on a different journey. Israel's got a lot of convincing to do before that fight happens."
Comments
comments