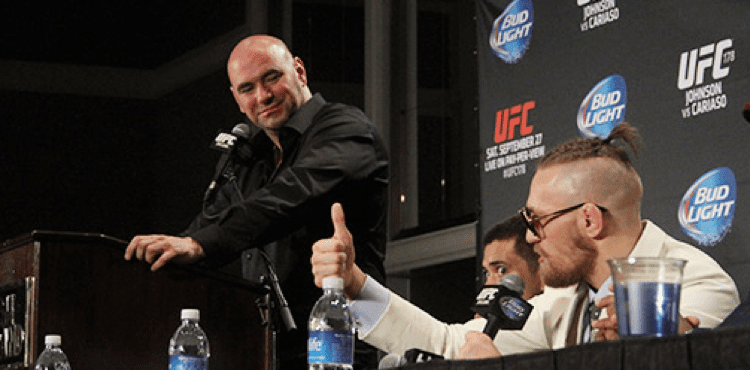 Anyone who has ever taken part in a Conor McGregor fight week will be more than acquainted with the cries of 'There's only one Conor McGregor' from the Dubliner's travelling support. Well as it turns out, Dana White is in agreement.
Since entering the UFC in early 2013 after conquering two divisions in the European-based Cage Warriors promotion, McGregor outlined immediately how he intended to repeat his multiple world title achievement on the sport's biggest stage — a prophecy which would ultimately be made real inside Madison Square Garden a few years ago.
And it wasn't just that: McGregor is credited with redefining everything from the pay-per-view buy rates (or, at least, raising that bar considerably) to the way that fights were promoted, and even the attire worn by fighters for doing so.
So with all of that noted, it's hardly of great surprise to hear Dana White comment on how the fighters he has seen attempt a facsimile of McGregor inside and out of the Octagon.
"It happens," White said to Hashtag Sports via MMA Fighting recently. "When you see a guy who's as successful as he is and he's fun, I mean you see the guy's fun and everything else, and you start thinking 'well maybe if I act like this, I'll have what he has'."
White says that the age of the mixed martial arts superstar won't dissipate whenever McGregor decided to permanently hang up his glove, but rather that his age of superstar will retire with him and with the bar sufficiently raised it will leave room for other fighters to move into the space once occupied by him.
"There's only one Conor McGregor," White said. "People will always ask me 'do you think you'll ever find another Conor McGregor, are you trying to find another Conor McGregor?' There will never be another Conor McGregor, but there will be somebody else who's different in their own way and will become a star in their own way."
Comments
comments