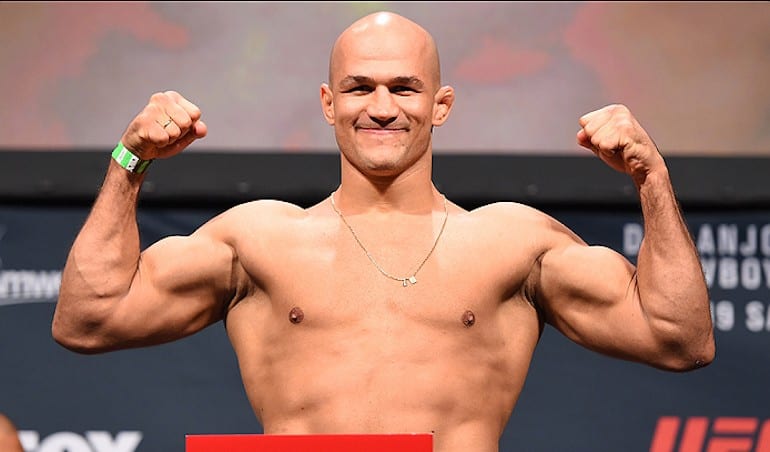 Junior Dos Santos' claim for another shot at UFC heavyweight gold took a backward step on Saturday night in Minneapolis when the Brazilian slugger was finished just over a minute into the fight by the division's premier knockout artists Francis Ngannou.
The victory came via strikes on the ground after Ngannou took advantage of an errant overhand from JDS to catch the retreating fighter on the chin, collapsing his legs and causing referee Herb Dean to intervene. The win is Ngannou's third in succession with the last two coming against former UFC champions (Dos Santos and Cain Velasquez) in a combined time of a little over 90 seconds.
While Ngannou appears destined to fight for the championship before 2019 is out, Dos Santos was left reflecting his moment of careless technique in the post-fight presser.
"You never know what is going to happen in a fight," he said. "A fight is a fight man. It is the hardest sport in the world you know. Especially this division. The most dangerous division no doubt. And uh, well I can not tell you his power surprised me. But what was, you know what, I kind of don't want to take any credit from him.
"But I kind of gave him that victory. Because why I threw that overhand right and get closer to him. Give him the chance to answer on top, because that's what he does! Every time you miss a punch on him, he's right there to reply to that you know? So, it was a big mistake. Like I said, I did it in the last fight with Derrick Lewis, but I was able to survive. You know I was able to come back. This time it didn't work."
Dos Santos echoed this sentiment with a video post to Instagram, congratulating Ngannou on engineering the opportunity to defeat him.
–
Comments
comments