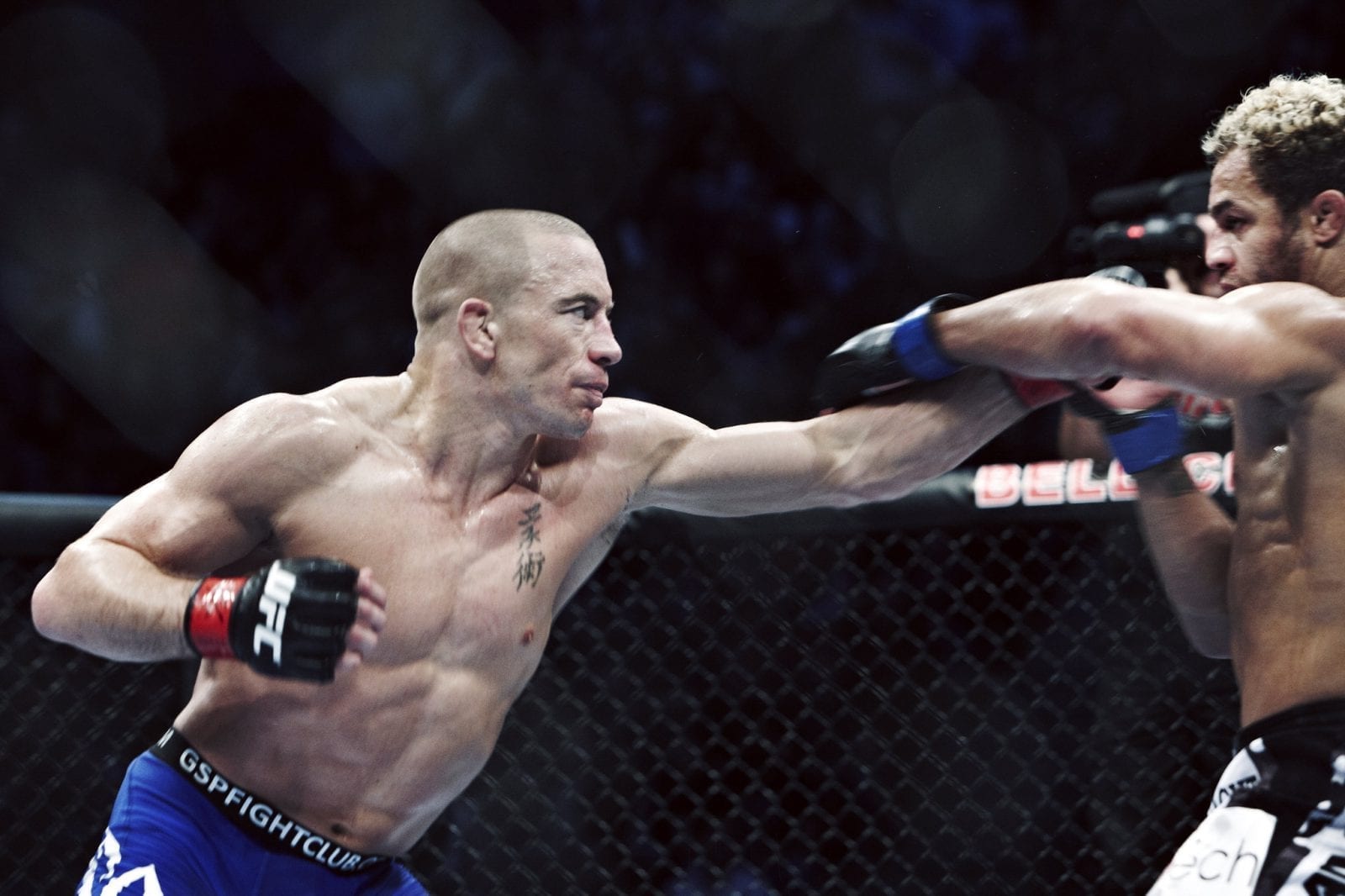 Next weekend, Georges St-Pierre returns to the UFC Octagon for the first time in around four years. One of the greatest fighters of all time, the former welterweight champion moves up in weight to face Michael Bisping in an attempt to become just the fourth man in UFC history to own two belts in two divisions.
And yet… Where is the fanfare? Where is the excitement? Where is the buzz? Instead of being one of the biggest combat sports moments of the year, St-Pierre's comeback appears to have been met with a collective shrug from the modern MMA fanbase.
There have been plenty of reasons given. Perhaps St-Pierre's lying low during his absence meant his star power has faded. Maybe it's the nature of his return contest, with a title shot at middleweight feeling anything but organic. Most point to the rise of Conor McGregor and Ronda Rousey, the two biggest names in MMA history that broke to a level none before had reached, bringing with it a whole new type of fan perhaps unaware of names like St-Pierre, Anderson Silva and Fedor Emelianenko.
So let's say you don't know exactly who Georges St-Pierre is. Let's say you got into mixed martial arts after his vacating of the welterweight title in 2013. Why should you care about this old fighter returning to the cage? Well, let's talk.
Georges St-Pierre is literally one of the best to ever put on a pair of black UFC gloves. Undoubtedly the greatest 170-pound fighter of all time, St-Pierre's run through the welterweight division from 2007-2013 had him pegged as (against Anderson Silva) the potential G.O.A.T.
If you weren't around for his initial run, it's hard to imagine just how skilled St-Pierre was. The Canadian showed a dominance unlike any we'd seen before. A piston jab, a javelin of a superman punch and some of the best wrestling seen in the cage gave St-Pierre the skills to dictate where the fight took place in every contest. His ability to control the pace, to push for 25-minutes meant he drowned opponents with pressure.
If Anderson Silva is the MMA Muhammad Ali because of his flashy finishes, then St-Pierre is the MMA Floyd Mayweather in terms of sheer superiority.
And, similar to the boxer, a criticism often lofted at St-Pierre during his heyday was his apparent reluctance to finish bouts, instead preferring to remain in charge from bell to bell. If that's a factor that puts you — as a consumer — off tuning into his return, then your worries are misplaced. Say what you want about Michael Bisping, but letting opponents get into a comfortable rhythm is not in his repertoire.
To recent newcomers of the sport, brought in by the McGregor/Rousey era excitement, St-Pierre might not seem palatable. His media output, for instance, is (in the world of "who the fook is that guy?") fairly dull. St-Pierre isn't coming out with witticisms or putdowns — particularly not against seasoned talkers like Bisping — and he isn't getting clips of his comebacks circulating on social media. But is that a bad thing?
Since McGregor's success has outshone that of his colleagues, we've seen a tendency amongst other fighters to adopt certain McGregor mannerisms. Suits at press-conferences, aggressive insulting and unneeded scuffles have all become more prevalent in the world of MMA. Is it so bad, then, that St-Pierre offers the polar opposite?
At the end of the day, St-Pierre's return is a that of a great. Win or lose, he will certainly be in the UFC Hall of Fame in a matter of years, and should go down in the record books as one of the best (if not the) to ever fight in mixed martial arts. His welterweight reign ensures him in the conversation alongside Jon Jones, Demetrious Johnson and Silva. While the debate on who gets the top billing in that foursome, his name is in there, and with victories over basically three generations of 170-pounders, there's a case to make that it should be at the pinnacle.
Regardless. GOATs are declared every week. It's rare we actually get to see one compete.
Comments
comments