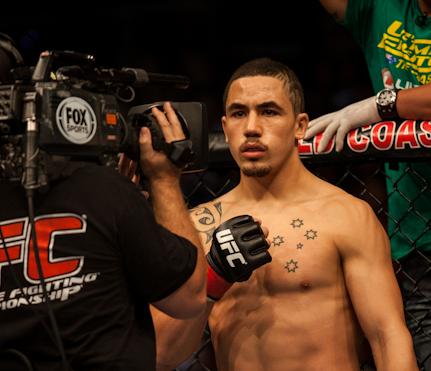 When exactly Robert Whittaker might be deemed fit to defend his UFC middleweight title is an unknown as of now, after UFC president Dana White stated last weekend during a UFC 220 post-fight media conference that the 185-pound champion is in "serious condition" after a staph infection has spread to his stomach and has begun affecting some internal organs.
Whittaker was due to defend his 185-pound title against former champ Luke Rockhold at UFC 221 in three weeks time but was forced to pull out of the bout when the severity of his ailment became clear. That fight has been replaced by an interim title bout between Rockhold and Yoel Romero and it is currently unclear as to when Whittaker will be fit again to meet the winner.
"He had staph infection in his stomach," Dana White said to assembled media in the TD Garden in Boston post-UFC 220. "From what I understand it wasn't treated properly and started to eat away at parts of his organs. He's in serious condition, so it's going to be a minute before he's back, I think. Hopefully it turns around quick, but that stuff is life-threatening if not treated the right way."
Writing on Instagram to announce his withdrawal, Whittaker said: "I've been ruled medically unable to compete and wont be able to defend on home soil. This card meant so much to me and I'm devastated for not being able to fight. All I can do is focus on getting healthy to come back better than ever. All the best to Yoel and Luke for their fight and ill be waiting…"
Whittaker was promoted from interim to undisputed middleweight champion following Georges St-Pierre's decision to relinquish his title in the weeks following his UFC 217 title victory against Michael Bisping. This has yielded the unusual situation of there being three middleweight champions since early November, and with another interim champion to be crowned in a few weeks time, it is currently uncertain times in the 185-pound fold.
There is no indication as to when Whittaker will be fit to defend his undisputed title against the Rockhold/Romero victor.
Comments
comments