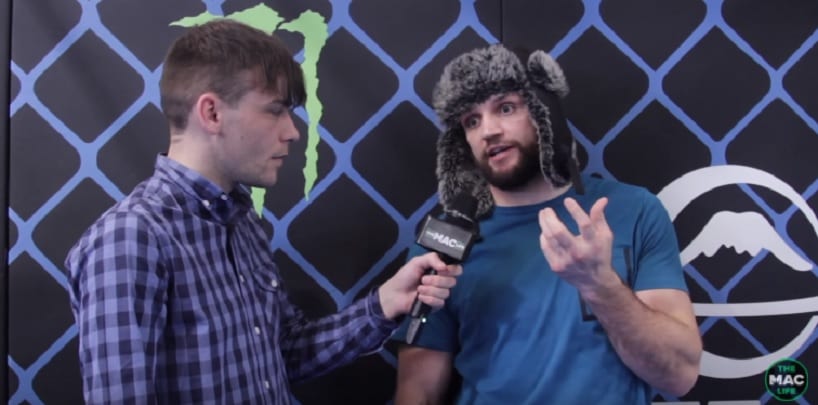 On St. Patrick's Day in London, one of the more delayed UFC debuts in the organisation's history will take place when SBG's John Phillips meets Charles Byrd in a middleweight bout on the undercard of the UFC's return to the English capital. 
Initially signed to a UFC deal in late 2016, visa issues and a troublesome knee injury have scuppered his first two bookings but now the former BAMMA world champion in more than ready to let his fists fly.
"I think everything happens for a reason," Phillips said to The Mac Life of his delayed debut. "In the moment obviously it's heartbreaking, you don't see it in the moment as everything happens for a reason but I'm a strong believer in everything happens for a reason. This is my time, everything has come together strong and you're going to see on the night I'm more than ready. I'm ready to rock and roll."
Phillips, dubbed 'The White Mike Tyson' owing to his prodigious punching power, moved to SBG after a successful spell in European regional shows which brought him 18 knockouts from 21 victories and the Welshman  knows that in order to move to the next level of the sport he had to get outside of his comfort zone. A move to Dublin followed and with his UFC debut just around the corner, Phillips says that this type of sacrifice is necessary in order to become one of the world's best fighters.
"Anything you want in life you can't get no victory, whether it's work or whatever, without sacrifice. Sacrifice is key and I find that I'm sacrificing my home comforts, my family, my girlfriend, my dogs to come here. It motivates me to be more focused on my training so I'm very sure that sacrifice is the key to getting a victory."
With a knockout rate as impressive as Phillips', it will come as no real surprise to anyone — nor his opponent — that the preferred route to victory comes via his fists, a statement which won't come as a surprise to anyone who has seen him fight before. While this will undoubtedly be the biggest stage that Phillips has fought on, he doesn't see it necessary to reinvent himself as a fighter ahead of his maiden UFC bout.
"People say to me, 'What's the gameplan?' The gameplan is the same every time: keep hitting the head until he goes asleep or until the ref pulls me off him. I'm fit enough for five fives, so three fives isn't going to be an issue but my job is to stop the guy. I'm always going to look for the knockout or the finish. If I don't finish it's not a win to me. I'm definitely looking for a knockout and I'm confident that I'll get a knockout.
"I want to be active. I find I'm better when I'm active, from the boxing days and MMA. Whenever I'm active I'm always better because I'm continuously in camp, I'm not peaking and coming down — I'm continuing staying at a high pace and I think the plan is to get a quick turnaround and bang, get on the next card. Hopefully Dublin."
.
Comments
comments