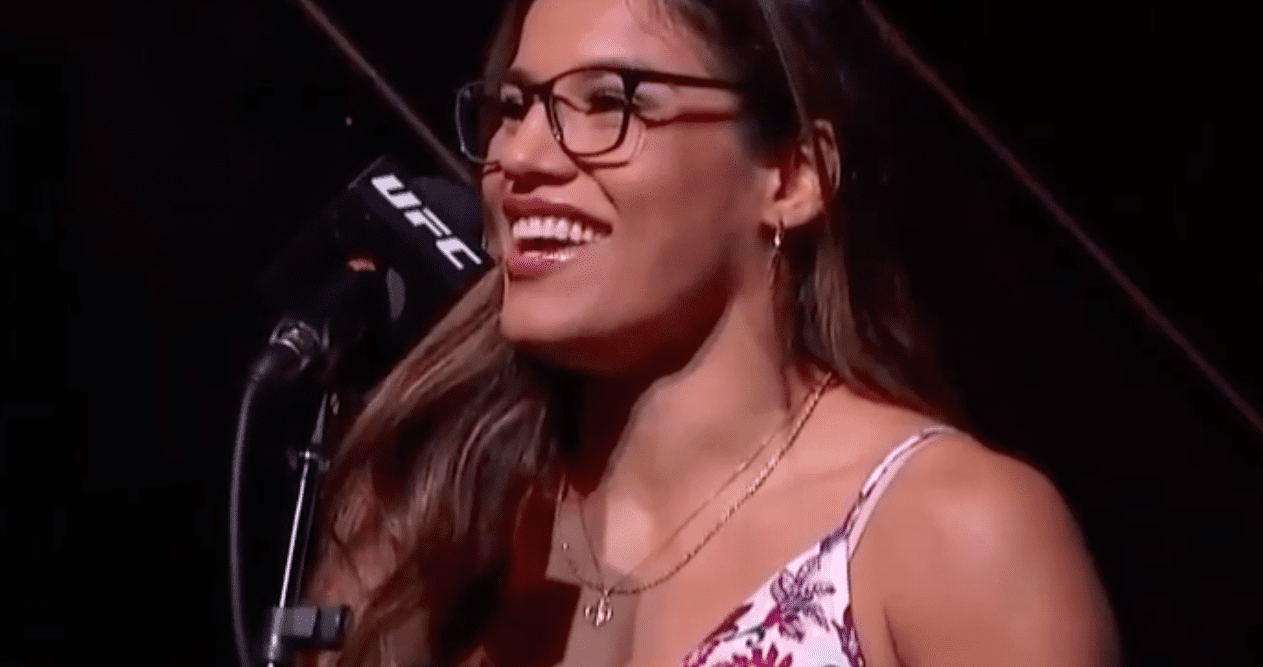 UFC women's bantamweight contender Julianna Pena was supposed to receive her first-ever world title shot on Saturday night where she was slated to take on double-champ Amanda Nunes for her 135-pound crown, before the Brazilian was forced to withdraw after testing positive for Covid-19.
However, 'The Venezuelan Vixen' will instead have to wait on the sidelines for his shot at UFC gold until sometime later this year once Nunes has recovered and is deemed fit to compete — but Pena was keen to remind White that she was ready to go this weekend, as she grabbed the mic at Thursday's pre-fight presser to enquire about the status of the champion.
View this post on Instagram
"This question's for Dana," said Pena. "Where's Amanda, Dana? Where's Amanda at?"
"She has Covid," responded a grinning White.
"It's not too late to get her here I heard that she tested negative," Pena replied.
"Oh yeah? I didn't know that. Soon, honey. You'll be fighting soon," White stated. "Sit back, enjoy the fights this weekend, and you'll be fighting very soon."
"When? I heard December," Pena shot back. "Is that true?"
"I don't know if that's true or not," White said. "We'll see how this plays out. Soon. As soon as we can make it, we'll make it. Alright? Thank you. Good to see ya."
Yes I did ask about you. When? When's going to be good for you? I heard from a teammate you've hardly been training for this fight even when you've been healthy. Did you know you were going to do this all along?

— Julianna Peña (@VenezuelanVixen) August 6, 2021
Noting this back and forth, Nunes took the time on social media to attempt to clarify the issue with Pena.
"Hey Venezuelan Vixen, Did you ask about me? I'm here in sunny south Florida. I'm just as excited to see you too. Hopefully soon. Btw. You looked great tonight," wrote Nunes.
"Yes I did ask about you," replied Pena. "When? When's going to be good for you? I heard from a teammate you've hardly been training for this fight even when you've been healthy. Did you know you were going to do this all along?"
Comments
comments