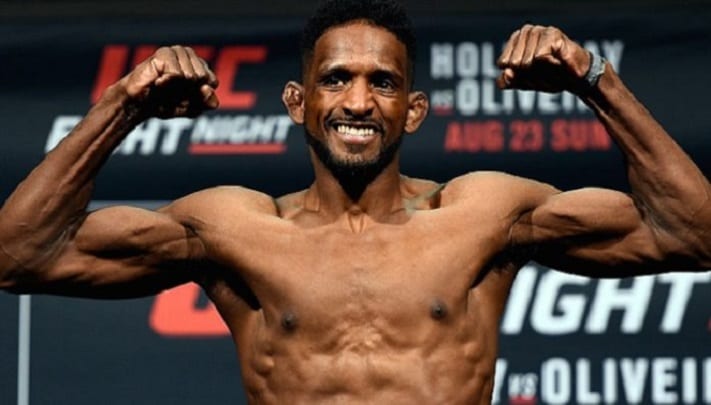 Rising star Khamzat Chimaev has issued callouts to a slew of fighters in the wake of his trio of wins in just 66 days but one man who has agreed to face the Chechen-born Swede says that any hold-up in announcing his next fight is purely down to Chimaev.
Welterweight veteran Neil Magny has stated that he has accepted a fight with Chimaev but says that he has seen nothing but radio silence since — and he is unsure as to exactly what the delay is.
"I thought this fight would be as simple as two guys agreed, get a date set and move forward, but it seems like this fight with him is taking a lot longer to get set than fights have in the past," the 10th-ranked Magny told James Lynch.
"I'm not sure if it's just him trying to hold-out for the highest bidder as far as picking out the fights that get him the highest ranked opponent or the opponent that's going to help propel his career the furthest or whatever it is, but there definitely seems to be some hold up on his end as far as being able to commit to an actual opponent and get the fight set for a specific date."
Magny says that he assumes the UFC are aware of his interest in the fight and had hoped that an official bout agreement would be forthcoming but says that the slow nature in making the fight doesn't quite echo with Chimaev's repeated claims that several fighters have turned him down.
"That part definitely caught me off guard a bit," said Magny. "Especially when you have Dana White having interviews like, 'Hey Chimaev is one of the hardest guys to book out there and no one wants to fight this guy" and he turns around and gives me credit for wanting to step up and here we are a few days later and there's still nothing in concrete/set in stone for this fight to happen.
View this post on Instagram
"I'm just like, well what's the hold-up? You guys all said that no one is willing to fight this guy, but I've already stood up and said I'm willing to take this fight, what else do I have to do to make this thing happen? I'm ready to move forward with this fight one-hundred-percent.
"I definitely like going into these fights that most people try and shy away from and take on the boogeyman, the guy that a lot of people in the division are afraid to go up against," he added. "And I feel like Chimaev is that guy. He's relatively new to the sport. He hasn't really been tested against competition. So a lot of people think you're putting your legacy, your rank on the line fighting a guy like that. But I like that kind of risk. I like to go out there and better myself and be fully confident that I'm going to come away with the victory."
Another of Chimaev's social media targets, former middleweight champion Chris Weidman, has also stated his interest in fighting him — so it remains to be seen which direction the promotion will go.
Comments
comments