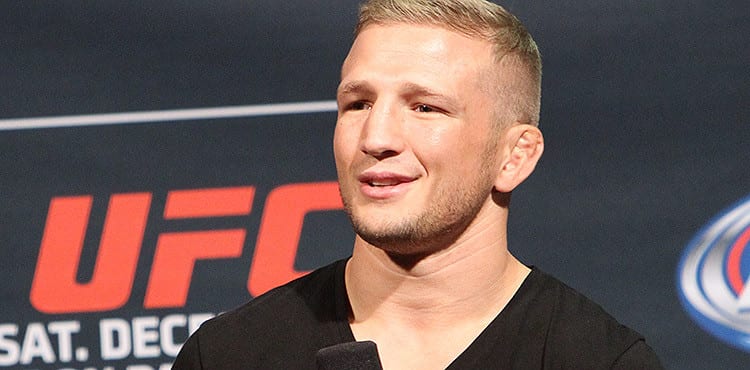 T.J. Dillashaw is no longer the UFC bantamweight champion.
As reported earlier today, Dillashaw announced on social media Wednesday that he was voluntarily relinquishing the UFC's 135-pound championship after being notified of a failure of a USADA drug test stemming from his January flyweight title defeat to champion Henry Cejudo.
It means that just weeks after aiming to add a second UFC world title to his collection, Dillashaw is now left without a title belt and has been issued with a one-year ban dated retroactively to his January 19 loss to Cejudo.
As you might expect, the reaction to this bombshell news has begun to dominate the MMA social media circles and below are some of the early opinions to filter out of what is a still developing situation.
TJ Dillashaw has been suspended for a year by the NYSAC, according to sources. A formal announcement is expected to be made this AM. Unclear at this time if he will be suspended longer by USADA but this is a NYSAC and USADA issue. Also unclear what he failed for. Developing.

— Ariel Helwani (@arielhelwani) March 20, 2019
Within the space of a few months T.J. Dillashaw has gone from being on the verge of becoming a double champ in the UFC to now holding no titles. Incredible.

— Chamatkar Sandhu (@SandhuMMA) March 20, 2019
T.J. Dillashaw news is great for flyweights, especially Jussier Formiga and Deiveson Figueiredo. Whoever wins Saturday should get a shot at Henry Cejudo next.

— Guilherme Cruz (@guicruzzz) March 20, 2019
TJ Dillashaw went down in weight, almost killed himself getting down in weight, lost in 32 seconds and has been caught using drugs whilst getting down in weight hahaha what a fucking disaster from start to finish https://t.co/MfnsQrTr49

— Josh Woogs (@JoshWoogsUFC) March 20, 2019
TJ Dillashaw: I'm going to go down there and kill the flyweight division once and for all.

The fight gods: pic.twitter.com/MfzikElPjA

— Jordan Patu (@Jordan_Patu) March 20, 2019
All told, pretty freaking rough trip to Brooklyn for Dillashaw. Went there gunning for two belts, comes away with none. https://t.co/rt191daLDl

— Chuck Mindenhall (@ChuckMindenhall) March 20, 2019
BREAKING: TJ Dillashaw has been stripped of his UFC Bantamweight title after a failed drug test prior to the Cejudo fight has emerged😳

He has been suspended for a year by the NYSAC pic.twitter.com/jBip56OGFM

— BiteMMA (@bite_mma) March 20, 2019
Tell me TJ Dillashaw hasn't ruined his legacy by being an intentional cheat!!

— Steven Bowen (@bowen9123) March 20, 2019
Aljo Sterling v Marlon Moraes for the Bantamweight title I say! Shocker from Dillashaw 🙈

— RT (@Rt_415) March 20, 2019
If TJ Dillashaw has a legit case, he wouldn't have relinquished the belt so quick.

— Bringing The Heat (@BringTheHeatPod) March 20, 2019
The infamous exchange between Garbrandt and Dillashaw suddenly seems a lot more damning #UFC

— Niall McGrath (@niallmcgrath4) March 20, 2019
If UFC will ask me to fight for the vacated title tomorrow I will agree without a doubt in my mind and I don't care who will be my opponent. I want that belt!

— Petr "No Mercy" Yan (@PetrYanUFC) March 20, 2019
–
Comments
comments