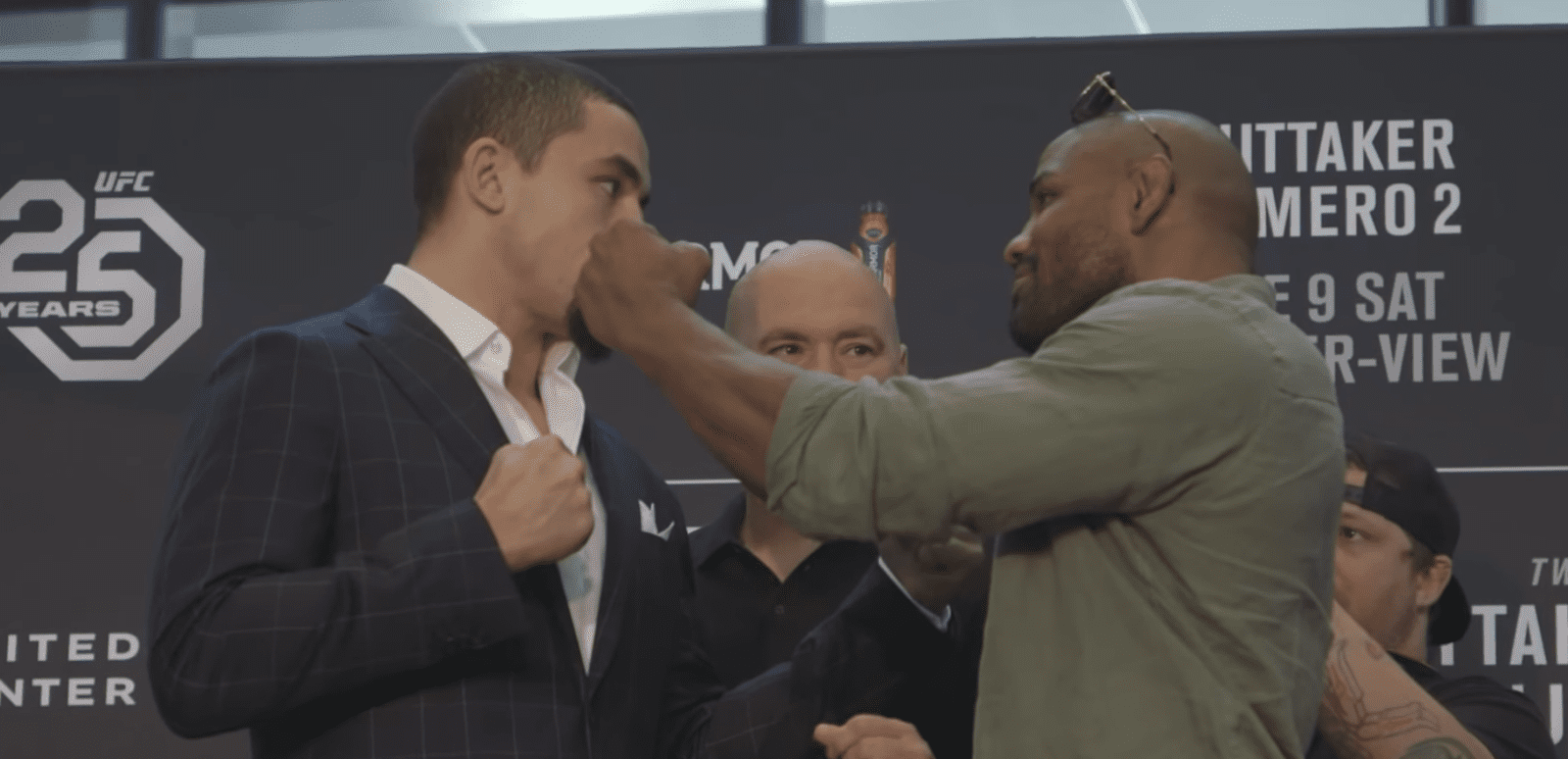 Robert Whittaker will make his latest middleweight title defence this weekend in front of a home crowd against Kelvin Gastleum and for all his opponent's talk of an upset first round victory, Whittaker says that he is buoyed going into this fight by spending 50 minutes in the cage in his last two bouts against Cuban wrecking ball Yoel Romero.
Whittaker came out on top on both occasions, the most recent of which was last June, and he says that the experience of competing in such high stakes, high level combat is the ideal foundation to propel his title ambitions even further.
Speaking to the media in Melbourne ahead of this weekend's UFC 234 main event, Whittaker says that the rest of the UFC's 185-pound fold should be concerned that that not even a "monster" like Romero was able to put the champion away.
"I feel they should be worried, but for other reasons," the champion said. "I feel that Yoel gave me his best in 10 rounds and couldn't put me away. I went 10 rounds with a monster. No one else has."
However, after two successive bouts against the Cuban, Whittaker says that he is happy to move on to a different opponent in Kelvin Gastelum, a fighter who earned his title shot by virtue of successive wins against Ronaldo 'Jacare' Souza and Michael Bisping.
"It's definitely not a step down," he said of his opponent this weekend. "I respect his abilities. He's a dangerous fighter. He's going to come in there hungry, with nothing to lose. That's one of the most dangerous combinations. I'm giving him the respect he deserves. It is refreshing to have a different opponent other than Yoel, but, you know, here we are."
This weekend marks nearly two-and-a-half years since Whittaker has fought in front of a home audience (the last being a win against Derek Brunson in November 2016) and he says that it will be a clear highlight of his career to walk out as the A-Side in a world title bout in Melbourne.
"It's a very special moment," Whittaker said. "I think the biggest thing is that I've missed home. I've wanted to fight here for a long time. To be able to come home and defend my belt, have, well, I guess in my career one of the biggest fights to date, it's pretty unreal.
"He's beaten some big names," Whittaker conceded of Gastelum. "He's young. He's hungry. He's tough. He hits like a truck. He's got good, well-rounded skillsets, so I think we go in there very, very, very even."
–
Comments
comments