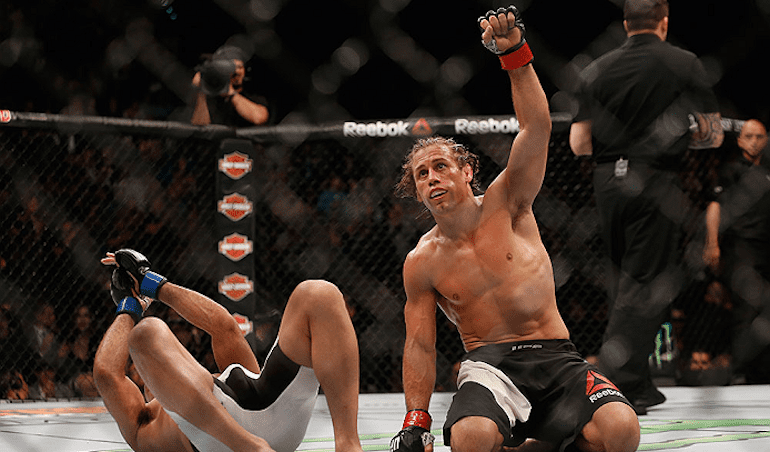 It has been over a decade since Urijah Faber and Jose Aldo met in the WEC cage but a level of respect still exists between the two former title rivals. 
Prior to both men making their mark in the UFC, Aldo and Faber met in April 2010 in a fight which was billed as one of the most interesting world title fights to have taken place outside of the world's largest MMA promotion. As for the fight itself, Faber became the latest victim of Aldo's scything leg kicks, as he was sent to canvas on several occasions before losing by decision to the then WEC featherweight champ.
But with Aldo experiencing a career resurgence and Faber contemplating a return of his own, 'The California Kid' says that his career will be tied to his former rival's for as long as they're alive.
"I love Aldo," said Faber on The MMA Hour recently. "I've always said Aldo is one of the best pound-for-pound guys on the planet, for sure. I mean, the [run] that he went [on] — and he really carries himself like a champion too, like the way he lives his life, the way he's constantly improving. Even leaving no stone unturned by dropping down a weight when I know that was a difficult thing. We've always had mutual respect.
"I found a picture from like 11 years ago after we fought," Faber continued. "We were all at dinner and Jon Jones was just getting going, and we're in Vegas somewhere having dinner and I've got nothing but respect for the guy. But I don't think he was hugging me because he felt bad about my leg. I was just joking around."
View this post on Instagram
Aldo, winner of two straight in the UFC dating back to last December, has made clear his intention of one day claiming the UFC bantamweight title to add to the featherweight strap he had several years ago — and Faber says that the Brazilian can be world champion once more.
"That's the crazy thing," Faber explained. "And it's funny, I remember the first time I met Aldo. His debut in the WEC was in Sacramento, and he came up to me in the hotel room and introduced himself, gave me a big hug and asked if we could take a picture together. And that's the same with (Petr) Yan when I met Yan in Singapore.
"And I remember when I was younger and when I was taking pictures of guys that I knew I would probably or looked up to and whatnot — that's a motivation thing. And I remember knowing when we took that picture that this is going to be probably a target on the wall. But that's this world we live in.
"This world is as close to nature as you get, man. It's like a circle of life and I love that about the sport. So Aldo's great. We'll be friends until we're old, old dogs."
Comments
comments