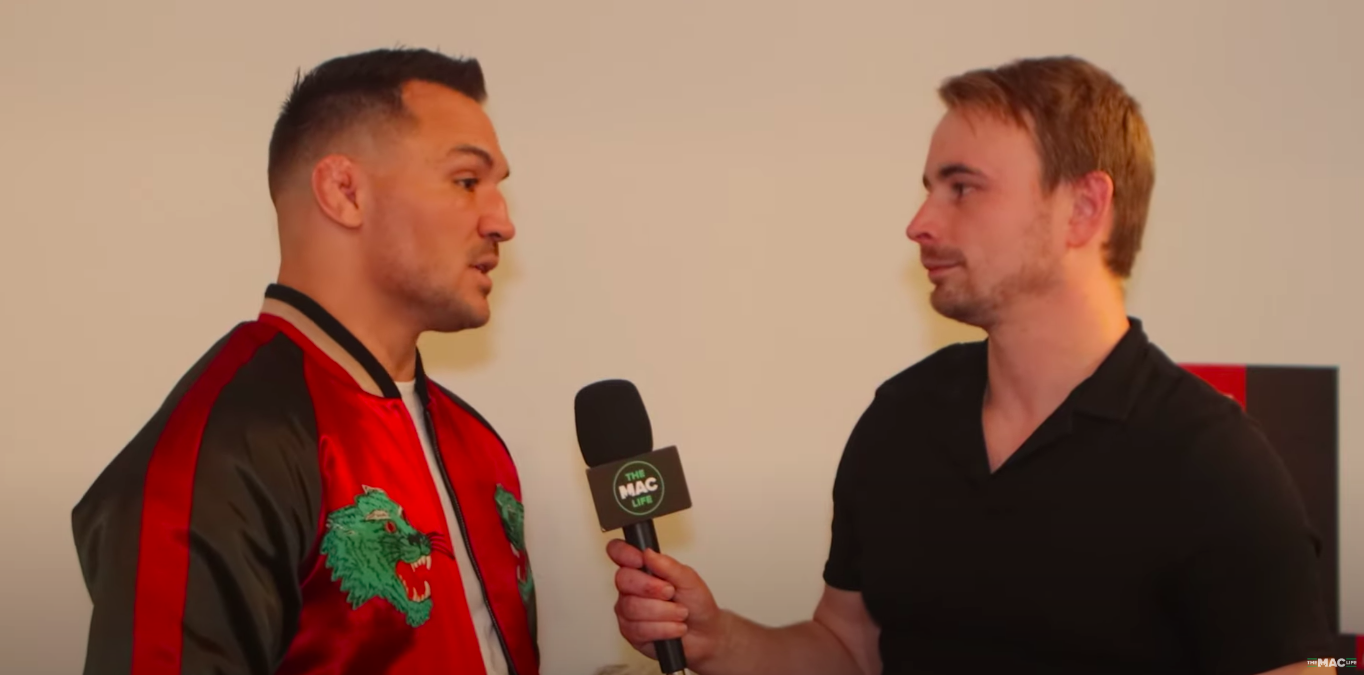 Don't ask, don't get.
Former Bellator champion Michael Chandler had some lofty goals when he first entered the UFC just a couple of years ago — and he didn't want to go the easy route to attaining them. Chandler, 36, has repeatedly stated that he's in the UFC "for a good time, not a long time", and that he only wants the biggest fights against the sport's biggest names before the day comes for him to hang up his 4oz gloves.
And after taking part in some of the most entertaining fights in the UFC lightweight fold during his run with the organisation, Chandler has taken on his biggest assignment to date, first coaching opposite Conor McGregor on the 31st season of the UFC's long-running reality series — ahead of a showdown in the cage later this year which is expected to be the most-watched combat sports event of 2023.
But before all of that, Chandler spoke to TheMacLife in Las Vegas on Monday where he lifted the lid on the experience he has had had in Las Vegas thus far as he prepares for the biggest fight of his life.
"The experience has been a lot of fun,"  Chandler said. "A  lot more work than I ever thought it was going to be. I thought I was going to come here, run some practices, and try to beat Conor in this competition. Turns out, I want all of these guys to win these fights so much more than I want to beat Conor. It's a lot of work. Pouring into these guys both physically with all the practices and then I've got all the interviews. Just the time spent with them, trying to get them to their goal of getting that UFC contract."
Of course, tensions can flare in such environments and Chandler admitted that there have been some testy exchanges so far.
"Me and Conor, we're just competitors," he explained. "He came here to win. I came here to win. We take this personally. We both want to win so it's been a few ups and a few downs. It's been a lot of fun to be here on camera and on microphone nonstop for the last month.
"It's a constant intense scenario. Me and Conor want to win this thing. I want to beat him in every single fight. I want to beat him in the competition. I want to be a better coach than him. I want to be a better everything than him and he wants to be the exact same thing. It's been a lot of fun. It's gonna be great TV because Conor and I, we're here to win a show. We're here to do what we said we were going to do."
Once the show wraps, then comes — as far as Chandler is concerned, anyway — the featured attraction on pay-per-view later this year. And Chandler says he expects to meet the best version of Conor McGregor in the cage.
"I've seen him, obviously," he said. "Physically moving around and stuff, it looks like his leg has healed which is great to hear. He deserves to come back 100% and we give the world what they deserve and that's a knockdown drag-out war on pay-per-view later on this year."
Comments
comments