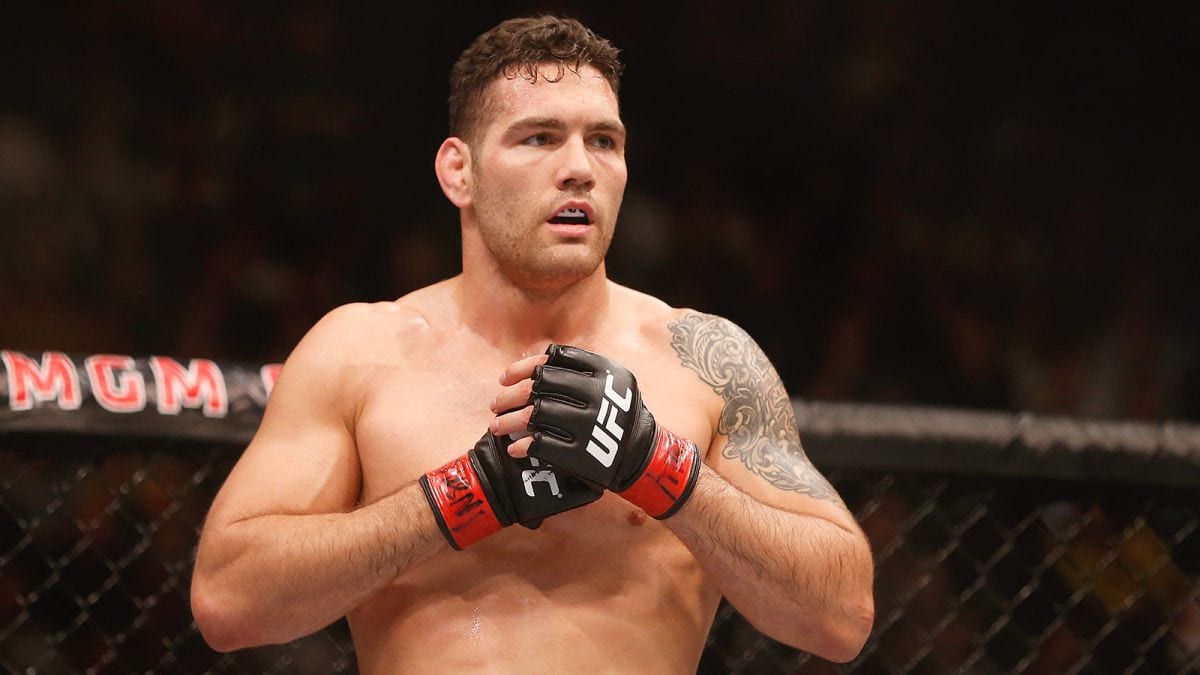 Chris Weidman got back on the horse this past weekend and despite coming up short in a grappling exhibition match, the New Yorker couldn't contain his emotion after re-entering athletic competition almost two years removed from suffering a badly broken leg in the opening seconds of a UFC bout opposite Uriah Hall. 
The former UFC middleweight champion competed opposite Owen Livesey in a special attraction grappling match at Polaris 23, and while having his hand raised afterwards would have been a bonus Weidman said that just stepping on the mat was a personal victory for him after experiencing what he said was the toughest two years of his life.
"These last two years have been the hardest years of my life," Weidman said, via MMA Fighting. "I don't want to cry, I'm not going to cry, but I don't know if you know this, but I snapped my leg in half in April 2021, and I wasn't sure I was ever going to be able to compete again in anything, and so to able to come out here and put a show for you guys, win or lose, is truly a dream.
"I want to thank all my supporters, anybody who had my back, said prayers for me, throughout this time off because I really felt that support. And all you haters that just think I suck and think I should retire, thanks for the motivation. Cause I'm going to prove you guys wrong when I get to a UFC fight."
Weidman gets a takedown! #Polaris23 is LIVE NOW on #UFCFIGHTPASS pic.twitter.com/58fiFxV6uI

— UFC FIGHT PASS (@UFCFightPass) March 11, 2023
Livesey gets the crowd PUMPED with another throw! #Polaris23 is LIVE NOW on #UFCFIGHTPASS pic.twitter.com/LQJsxIpmq8

— UFC FIGHT PASS (@UFCFightPass) March 11, 2023
Welcome back, @chrisweidman 🫡 pic.twitter.com/u3oHsqLk7k

— Ariel Helwani (@arielhelwani) March 11, 2023
Livesey, a British judoka who holds a gold medal from the 2014 Commonwealth Games, used several trips and throws to keep Weidman — an All-American wrester — at bay, with Weidman crediting his opponent's performance afterwards.
"He's got some good throws, that is for sure," Weidman explained. "I underestimated him for sure. I love upper body and his confidence level there was through the roof. I really didn't expect that. He's a solid dude, very strong. Extremely strong. My goal was to get him tired in the first five minutes, try to wear on him, get top position and look for the sub but unfortunately that did not happen at all.
"Even though I didn't get my hand raised, this was a great experience," he added. "Obviously my main goal is to get back to UFC and get that strap back and this was a great way to get the ring rust off before I do that.
"I can tell you that fighting might be a little more nerve racking but it's not that much more nerve racking just because you want to do your best in here. So the nerves, the fight week, it's very similar to this so it was a great way to jump into a fight, getting this under my belt and going against a guy like him. There's nobody in the UFC that's going to be stronger than Owen Livesey."
Comments
comments