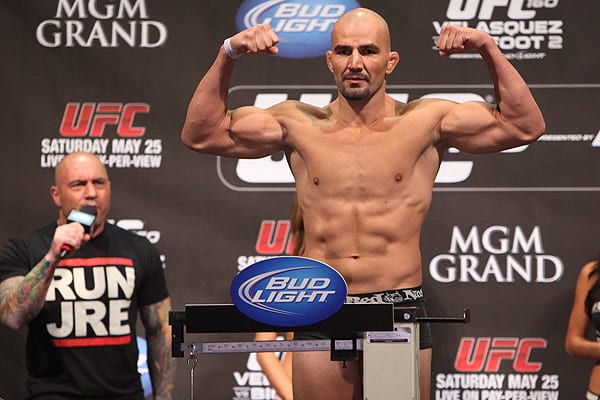 Life moves fast in mixed martial arts.
This time last week, Glover Teixeira was preparing for a pay-per-view headline fight with Jiri Prochazka in which he would attempt to retake the UFC light heavyweight title he lost by submission earlier this year. Today, he is off the card and unsure of when — or who — he will be fighting next.
Prochazka, the Czech (former) champion, relinquished the belt yesterday after suffering a severe shoulder injury in training, with the UFC moving the co-main event of Jan Blachowicz and Magomed Ankalaev to the top spot in a fight which will crown a new champion at 205.
Teixeira, though, was offered a fight with Ankalaev for the vacant title but refused and instead requested that the fight take place in January in Brazil to allow him time to prepare for a vastly different style of opponent. That request, though, was refused, and Teixeira isn't thrilled by how the situation has been handled.
"I told [the UFC] I would fight Blachowicz on the 10th because I've fought him before and it would be easier to adapt, [Ankalaev] is a southpaw," Teixeira said to MMA Fighting.
"I told them if I had to fight [Ankalaev], to make it in Brazil [on Jan. 21]. And Blachowicz is ranked ahead of him anyways, so I don't get it. Jan and I are ranked ahead of him, why did they want to — man, whatever. We have to stand our ground. It's not like that, 'come here and fight whenever I want.'
"I won't let that affect me inside," Teixeira sadded. "I'm a happy and grateful man. You know that saying, you do 1,000 things for someone but becomes the worst man if you don't do one thing? I won't say that about the UFC, but they really messed up that day. I spent with a camp and now they took me away from the title fight. I agreed to fight both guys, the only thing I asked was more time to fight Ankalaev. I'm a high-level fighter and I don't want to be the guy that goes in there, gets kicked in the arm and goes down just for the money.
"I give my blood and life inside the octagon. You've all watched my fights before, I leave everything in there. I want to bring the belt back Brazil and for myself, and I believe I can do it. I was beating Prochazka, this hero, the guy everybody said was knocking everybody out. I was breaking him until I made a mistake. I'll get the belt back, but I have to do things right. I have to go there to win.
"I can't go there for the money because I don't fight for money. I fight for honour, I fight to elevate my name. I'm not even attached to wins and losses anymore. I fight for a goal. If I were fighting for money I wouldn't even be fighting anymore, I would have become a YouTuber or something."
Comments
comments