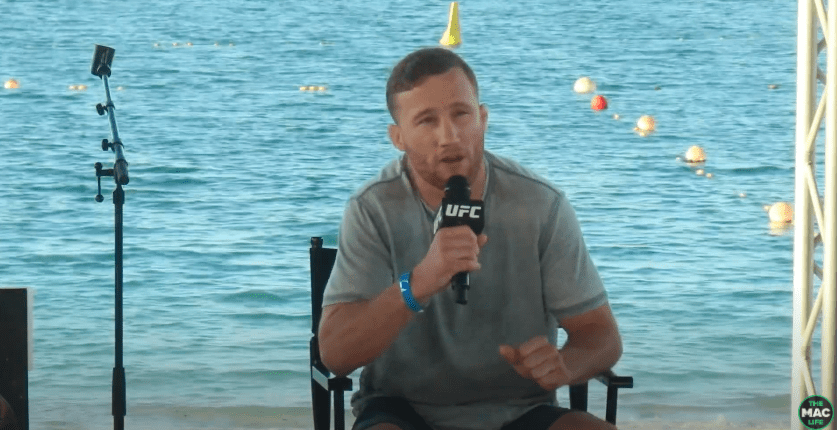 Ahead of this weekend's UFC 254 main event between Justin Gaethje and Khabib Nurmagomedov, the challenger says he knows exactly what he has to do if he is to emerge with the world title — and it comes down to avoiding the Russian's takedowns and using his own 'dense bones' cause damage. 
Rarely will Nurmagomedov have faced as credentialed a grappler as the All-America Division I standout Gaethje, but rarely will he have fought someone so reluctant to use the types of grappling techniques he excels in. Gaethje's early fight career followed the blueprint of 'wrestling in reverse', in that he used his expertise on the ground to keep the fight from going there while he began to feel out the power in his own fists and leg-kicks.
In fact, Gaethje has yet to attempt even one takedown in his UFC career so far and has spent just 17 seconds on his back before returning the fight to an area he is evidently more comfortable in — but speaking to reporters in Abu Dhabi on Wednesday, including The Mac Life, he said he hopes that Nurmagomedov thinks this fight may be little more than a formality.
"I expect him to believe that's going to happen," Gaethje said. "I've been telling myself that's going to happen and it drives me every single day. I'm a performer. I always show up under the lights and I've been doing this as long as he has. This is ingrained in us. On Saturday night I will leave everything, give everything and be proud of my performance.
"I didn't watch any tape on Khabib," Gaethje said of his preparation. "I've watched his fights throughout his career because I'm a huge fan of everything. I've always focused on being my best self. He hasn't fought someone that's grappled as long as he has, I have. Everyone says they're ready and I will not allow him to put me on the fence. If I do, then I'm screwed.
"My plan is if we're gonna grapple, let's grapple in the middle at all times. I've said it 1,000 times; I cause damage. I have dense bones and I'm gonna kick his legs. That's where we're gonna start and we'll go from there."
Comments
comments