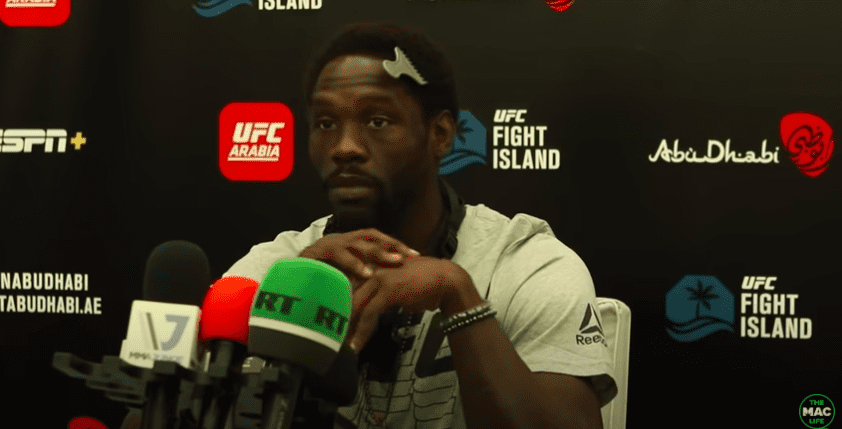 Ahead of what is being considered a title eliminator in the UFC 254 co-main event this weekend, Jared Cannonier expects that his work inside the cage against former champion Robert Whittaker will prove that he is the rightful next challenger for the 185-pound world title.
Cannonier, who is on a very short list of UFC fighters to hold win in three separate weight divisions, will be considered next for Israel Adesanya with a win this weekend, and while the same appears true for Whittaker this weekend, Cannonier says that there will be little doubt as to who the standout contender at 185-pounds is as soon as he steps into the cage with the Australian.
"This is the biggest fight of my career. A title fight is definitely coming for me next," Cannonier said to the media in Abu Dhabi, including The Mac Life.
Of course, Whittaker's body of work inside the cage dictates that he shouldn't be slept on but Adesanya has already outlined that he expects 'The Killa Gorilla' to have his hand raised on Saturday night ahead of a presumed world title clash next year.
"Real recognise real," Cannonier said of Adesanya's prediction. "He said in his interview he respects my energy, and that means something different to me than what it means to other people. When you start talking energy, I think we're seeing each other right there and that's huge.
"I think a lot of people look at the physicality of the sport and don't tap into the mentality of the sport, as well. There's a spiritual aspect to this sport. Martial arts is a spiritual thing before it was a physical thing."
This weekend will mark the first time in over a year that Cannonier will have thrown a punch in anger and while some fighters are loathe to experience extended layoffs, not so Cannonier.
"Even though I had the [pectoral] injury, some may see it as a bad thing, but in my experiences in my whole life, especially since leaving home, I've realized whenever something me or anyone perceives as negative, it's always followed by something positive — like a pendulum swing,
"So with this injury, COVID-19 popping off and everything shutting down, the injury happened at a really good time because I was able to go to my physical therapist. Al Escobar is the man … not only was he rehabilitating the pec, but he was taking me through a strength and conditioning program that has definitely benefited me in a very major way. You guys will see."
Comments
comments