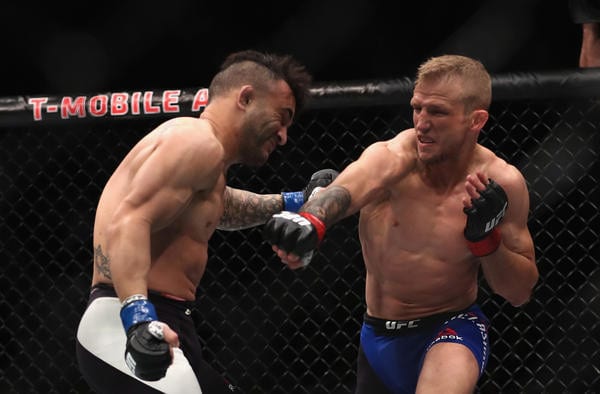 TJ Dillashaw and Vasyl Lomachenko, two stars of their respective sports of MMA and boxing, sparred each other on Wednesday in California and some (all too brief) footage of the encounter has emerged online.
Two-time Olympic champion and professional world champion Lomachenko is considering to have some of the best footwork and movement in the world of boxing — a statement which could be true of Dillashaw and mixed martial arts, too — which is what makes the below footage so fascinating to watch.
The two champions sparred four four-minute rounds, after which Dillashaw told ESNews (as reported by Bloody Elbow) what it was like to be in the ring with one of the best boxers on earth.
Snapshot of @TJDillashaw and @VasylLomachenko sparring session. They just finished four, 4-minute rounds. Fun. pic.twitter.com/NFwsidApBV

— Brett Okamoto (@bokamotoESPN) March 23, 2017
"He put it on me. He's animal," Dillashaw said. "He's a cardio machine. He doesn't give you a break. So much respect. Just to share the ring with the guy was amazing. I would never pass up the opportunity. I wish I was in a little bit better shape, but it was amazing."
So much of TJ Dillashaw's evolving mixed martial arts game employs the use of effective angles and footwork to trap his opponent in position that he doesn't want to be in and there are few boxers who use that style better than the 7-1 pro boxer, who had an incredible 396-1 record in the amateur ranks.
"Turning you into punches, that's his thing," Dillashaw explained. "He gets those angles where you can't find him. You're looking, and as soon as you find him, he's hitting you. It was amazing. I'm a guy who wants to use angles and use footwork, so I can learn a lot from him. I really hope I get to continue to work with him."
Comments
comments