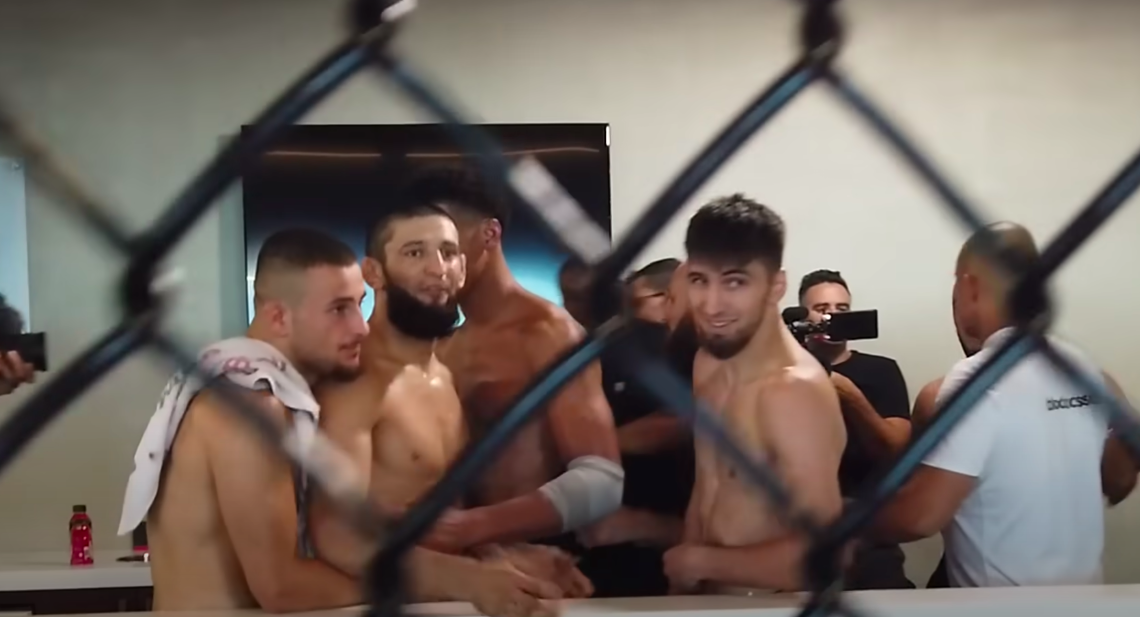 Ahead of his main event fight with Nate Diaz this weekend, Khamzat Chimaev came close to another dust up after he and UFC middleweight Paulo Costa were involved in a confrontation at the UFC Performance Institute in Las Vegas.
Costa is in Las Vegas where he is training with Diaz's longtime ally Jake Shields a couple of weeks removed from his decision win against Luke Rockhold at UFC 278, and he nearly found himself involved in an off-the-books scrap with the surging welterweight star Chimaev after a verbal back-and-forth which prompted Chimaev's team to restrain him.
Check out the footage below:
"Did you say you want to f*** me up?" Chimaev can be heard saying in the footage.  "I want to fight you, do you want to fight me?" replied Costa.
"I want to f*** you up now p**** boy. Brazilian p*****," Chimaev shot back.
Costa, meanwhile, stated in a social media video that he is backing Diaz to hand Chimaev his first professional loss.
"I think Nate Diaz will beat him, Nate is a real gangster," Costa said. "Chimaev calls himself a real gangster, but he's just a gourmet Chechen. He's not a real gangster, f*** that guy. Nate Diaz will f*** him up, I'm with Nate all day. F*** that gourmet Chechen. If Chimaev beats Nate Diaz, we can do this [fight] for my last one."
Shields, meanwhile, also seemed to back up Costa's statement that Chimaev is all bark and no bite.
He told MMA Junkie: "If he wanted to fight Paulo, he would've run in there and started swinging on him, not stood outside the cage and say, 'Let's fight right now. Let's fight right now.' It seemed kind of a weak thing. I guess that's why he was upset because Paulo called him a fake gangster, and that was a perfect example of him being a fake gangster."
Comments
comments