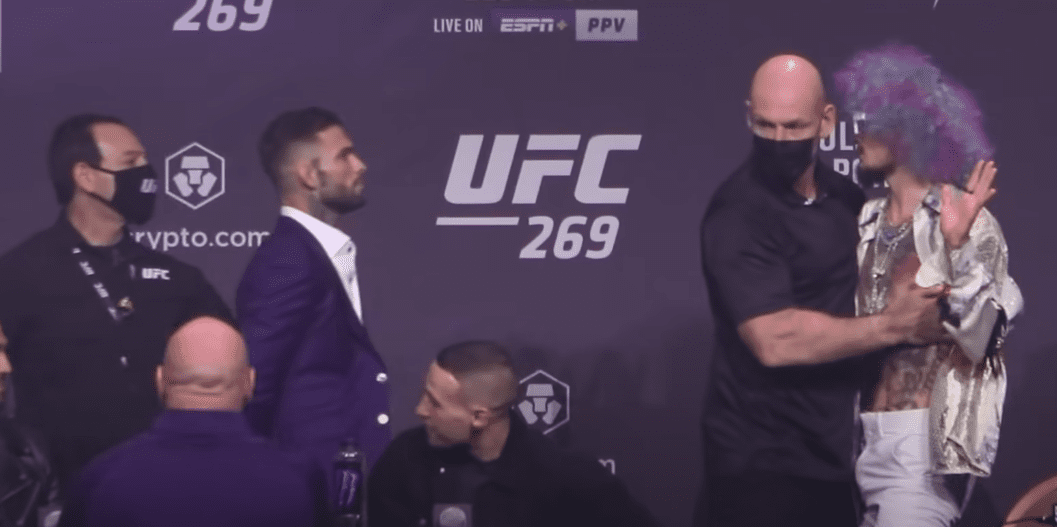 Sean O'Malley and Cody Garbrandt have been linked to a fight with one another for quite a while and we nearly got a preview of what it might look like at Thursday's UFC 269 press conference in Las Vegas.
Garbrandt's recent move to the flyweight division seems to have put paid to any immediate clash between the two rivals but that certainly didn't stop the two rivals from jawing at one another while on stage before their fights this weekend.
When asked by a reporter if he has anything to say to O'Malley now that they were in close proximity to each other, 'No Love' certainly lived up to his nickname: "Listen, this dude, he comes out here, he does his thing, he walks his walk. Look how he's dressed, he does the hair. But he's got different problems than 'No Love' problems. He's got Raulian [Paiva] to my right. Raulian is battle tested in here, way farther than he's ever been."
O'Malley's response was simple: "He's won one fight since 2017."
"That's a good one, and you haven't fought anybody," Garbrandt shot back. "Who the f*ck have you fought? Look, I can't be mad at this kid. He understands when he jumps up in competition, his hype goes away. His money goes away. His sponsors go away, 'cause he'll get his ass beat straight up.
"I'll weigh in tomorrow at [125] and fight you at [135] and still kick your ass," Garbrandt added. "You're easy work, but I'm not worried about you. I'm focused on Kai Kara France. You've got Raulian to worry about.
"That's how stupid you are," O'Malley responded. "Why would you do that? You sound a little worried. Dana, can me and Cody square up just for the future?"
And you can see the results of that below:
–
Comments
comments