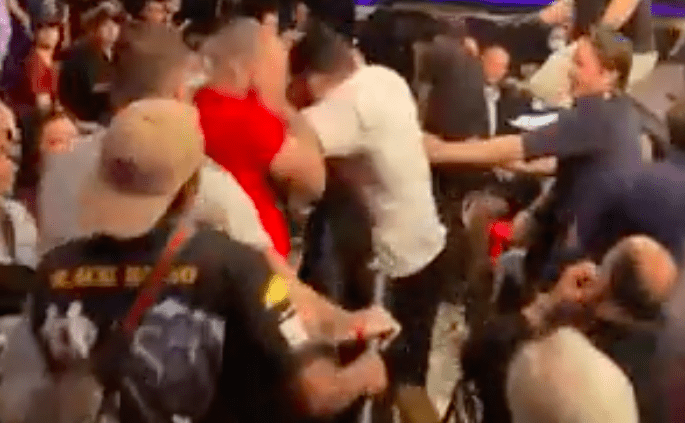 Mike Perry's Bare Knuckle Fighting Championship debut has come a little earlier than expected.
Former UFC welterweight Perry, who recently scored a victory against pro boxer Michael Seals in the upstart Triad Combat event hosted by Triller, recently inked a deal with the bare knuckle fighting league and came up, close and personal with one of their most seasoned fighters, former Ultimate Fighter contestant Julian Lane, at Thursday's event in Tampa, Florida.
On the broadcast, Perry was discussing his move from the UFC with BKFC commentary team Sean Wheelock and Chris Lytle when something was thrown from the audience towards him. Perry took a moment and looked towards the direction from which the projectile came and, as one might have expected, left his position to confront Lane — and fists quickly flew.
Check out the footage below:
.@JulianLaneMMA provoking @PlatinumPerry at #BKFCTAMPA.

Will they fight in @bareknucklefc in 2022? pic.twitter.com/mdhD8Z2PWc

— FITE (@FiteTV) December 10, 2021
Julian Lane and Mike Perry tonight at BKFC (from Julian's IG) pic.twitter.com/ZBfuDrtJzP

— ShayMyName2 (@imstillshannon) December 10, 2021
Comments
comments