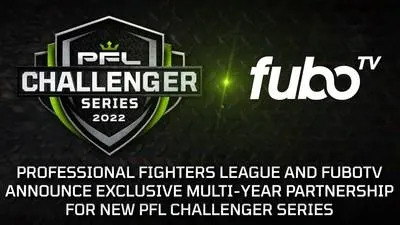 The PFL's Challengers Series is set to appear on fuboTV.
That's according to an announcement made by the promotion this morning that reveals a multi-year deal that finds the company's latest program a home. The concept will see professional fighters battle it out in an attempt to earn a spot in the upcoming 2022 season.
Famously, the winner of that will be awarded a check for $1 million.
"PFL Challenger Series is not your father's contender series," said PFL founder Donn Davis. "Winners of the PFL Challenger Series can become a real-world Rocky story, going from an unknown pro to world champion holding a $1 million check in the same year."
The first Challenger Series is scheduled to begin on February 18, and will take place on Friday nights through April.
It's also been revealed the show is to feature a panel of changing judges, including various celebrities, athletes and combat sport legends. Some names already touted are Mike Tyson, NFL star Todd Gurley and NFL legend Ray Lewis. Viewers will also have the chance to vote on the fights from home.
Fubo Sportsbook will be the exclusive gambling partner for the series.
Comments
comments