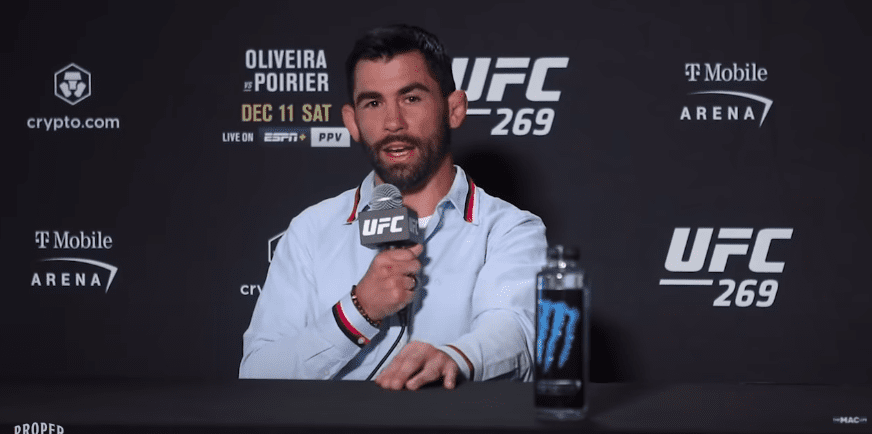 Dominick Cruz says he "loves" Daniel Cormier as a friend but not so much when he's behind the microphone.
Cruz has gained a reputation over the years for being one of mixed martial arts' most analytical minds, both in the cage and outside of it when he provides commentary to select UFC events. His performances in explaining a fight to a television audience, he says, is the result not just of a lifetime connected to combat sports but also the significant research he says he conducts ahead of a broadcast.
But Cruz, who takes on Pedro Munhoz in a bantamweight contest at this weekend's UFC 269 event, says that he doesn't quite see the same in Daniel Cormier's work.
"[Jon]Anik, to me, I watch Anik do so much homework leading up to a fight," Cruz said to the media in Las Vegas, including The Mac Life (transcript by MMA Fighting). "People have no idea how much homework he has to do to be prepared for that. The most kudos for me really goes to him. He leads us in the broadcast with how he talks.
"When it comes to 'DC,' I usually mute it. I love DC, he's my friend, but to me, from my experience, he doesn't do the homework. He wants to get in and out, get the job done, make his money, and I think he cares about us but it's just different. He doesn't do the preparation from my experience. He might now, I'm hoping he watches some film this time on me so he knows what I'm doing and why I'm doing it, but I'm not gonna hold my breath on that, that's for sure."
Cruz also elaborated on his experiences with the rest of the UFC commentary team, saying that he hopes Joe Rogan never leaves the role — and Michael Bisping, whom some audiences have suggested verbally spars with Cruz on broadcasts.
"The sport itself, yes, we may know more because we've been in there, but Joe Rogan brings a special quality," Cruz continued "I hope he does this next to me forever, to be honest. I really do. I love working with him, I love him as a human being and what he stands for right now, especially in this day and age, he's a powerful human being. Anik, same. I want to work with Anik for the rest of this. If he quits, I say, 'I will slap you if you quit. I need you. Don't you dare.'
"Me and Bisping, do I really need to touch on that? That's back and forth. He's just fun. He's my friend. I'll never forget Bisping came to one of my — I lost one of my fights and he came to my afterparty and he partied with me all night. I'll forever have a space in my heart with Bisping whether people know it or not, I love that guy. DC, again, we go back and forth and we bicker like brothers because he's like my brother to me. I just love him, too. I just need him to watch some film."
Comments
comments