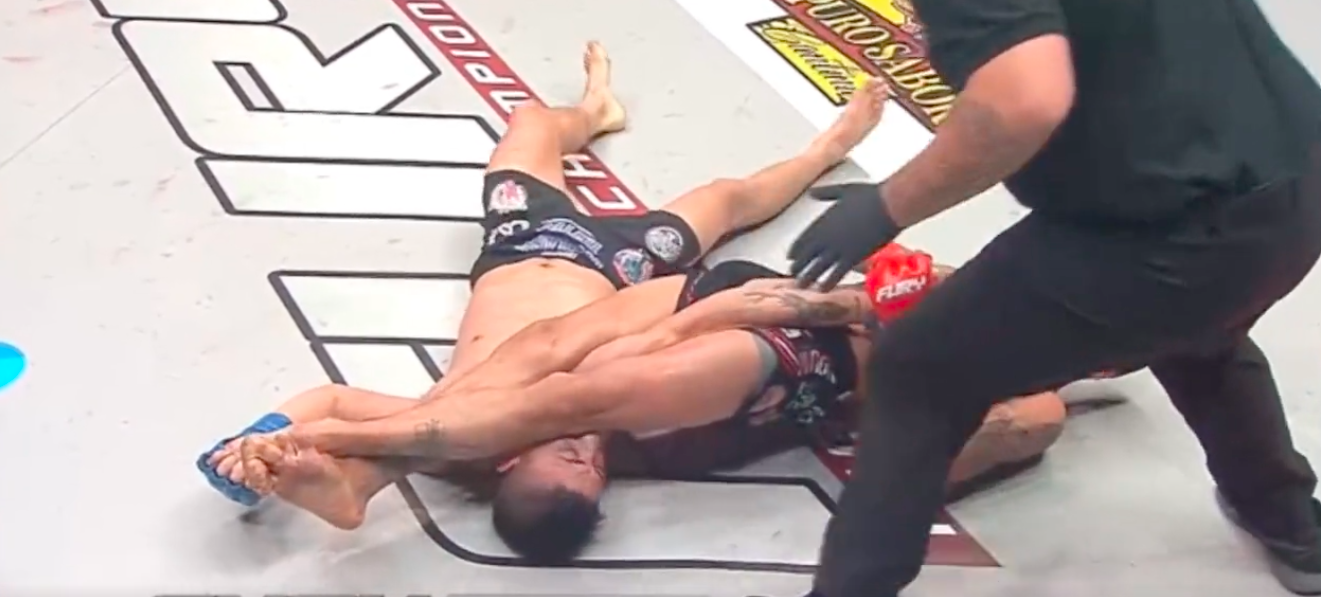 Chances are that you have seen a few clips over the years of a late referee stoppage in MMA fight — but this one might be the most egregious of them all. 
Last Friday night during an event promoted by the Texas-based organisation Fury Fighting Championship, Edgar Chairez locked in a tight triangle choke in his main event showdown with Gianni Vazquez — with Vasquez appearing to go limp just moments later as the submission took hold. As any seasoned watcher of MMA would have expected, the referee should have immediately intervened to call a halt to the bout.
However the official, Frank Collazo, apparently didn't clock that Vasquez was unconscious due to the blood choke which cuts off oxygen supply to the brain, and allowed the technique to be applied for around half a minute more, before Chairez switched to an armbar of his completely unconscious opponent — who soon awoke and tapped out.
The footage, which is a tough watch, can be seen below:
Ridiculous scene at Fury FC. Edgar Cháirez puts Gianni Vazquez to sleep with a triangle, and the ref simply doesn't stop it. Cháirez ends up armbarring an unconscious Vazquez who wakes up in the submission. #Furyfc76 pic.twitter.com/AgcwI2i3ss

— caposa (@Grabaka_Hitman) March 25, 2023
Fury Fighting Championship subsequently released a statement following the incident.
"It is the referee's job to protect the fighter when the fighter cannot protect him or herself. In last night's main event, the referee failed to do this. While the job of a referee is one of the hardest to do in this sport, the need for proper and continued training would help to alleviate things like this incident," they wrote on social media.
"We do not hire, train or select refs for our shows, but we would be more than willing to lead a revamp and overhaul of the reffing and judging selection and training process.
"There has to be a way though where referee Frank Collazo is ordered to complete multiple courses to improve his knowledge submission positions because he proved last night he can't do the # 1 job a referee is supposed to do and that is keeping the fighters safe. I know it's not the promotions who hire officials but you have to ask for Frank Collazo to not to be assigned to any event until he passes multiple courses."
Comments
comments