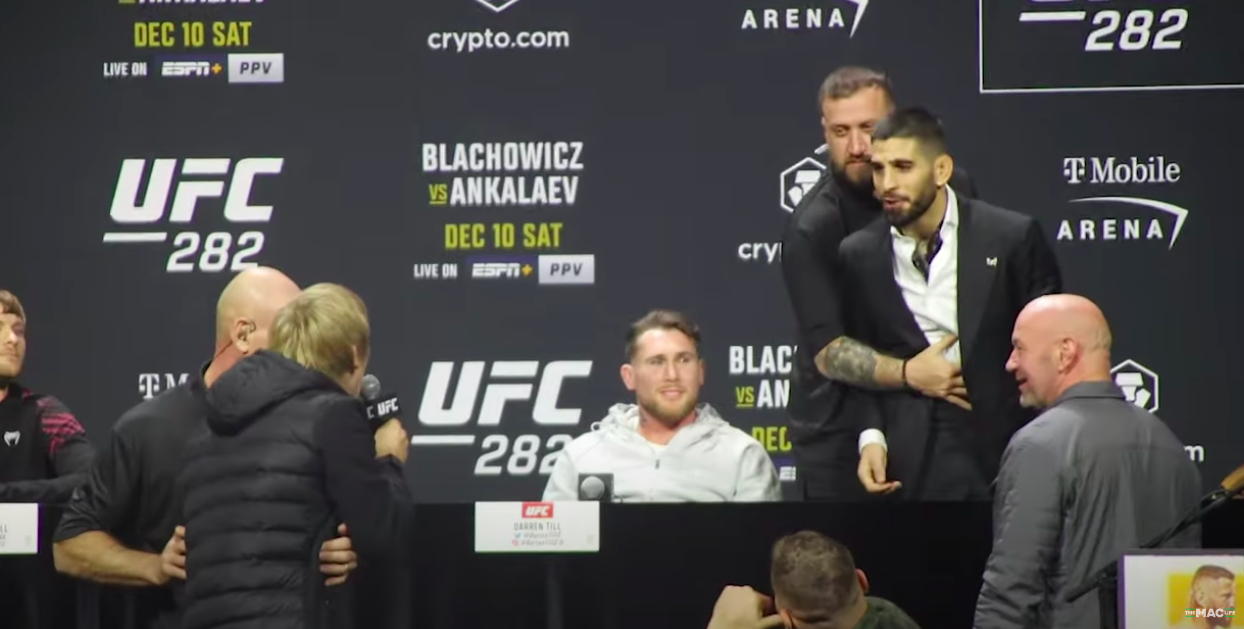 They might compete in different divisions but it definitely seems as if a straightener is forthcoming in the rivalry between Paddy Pimblett and Ilia Topuria.
Pimblett is due to make his UFC pay-per-view debut this weekend in the UFC 282 co-main event opposite Jared Gordon in a lightweight contest, while the unbeaten Topuria is set to clash with Bryce Mitchell (also unbeaten) in much-anticipated featherweight contest — but after a coming together backstage ahead of UFC London earlier this year, it certainly seems like weight differences can't keep these two apart for long.
Much of Thursday's pre-fight press conference in Las Vegas was dominated by back-and-forth bickering between the two, with Pimblett amending his oft-used 'sausage' insult to (a frankly quite inventive) 'chorizo' slur.
Topuria, for his part, suggested that Pimblett has been avoiding him throughout fight week: "He just quit when he saw me coming," he said. "When he sees me, he goes for the back doors."
"He's obsessed with me," Pimblett shit back. "He hasn't stopped tweeting about me all week. He needs to sort his life out. That little bum's irrelevant. I haven't seen him all week The UFC have kept us apart. Cause when I saw him last time, he got a hand sanitiser bottle bounced off his [head]. Hand sanitiser boy! You're known as hand sanitszer boy, you little mongrel."
"Shut up," Topuria responded. "F*ck you. You want to talk to me man to man, I went to your country, I slapped your face. I walk like a king in your streets. Shut up, or I'm going to stand up and crush your face right now."
Comments
comments