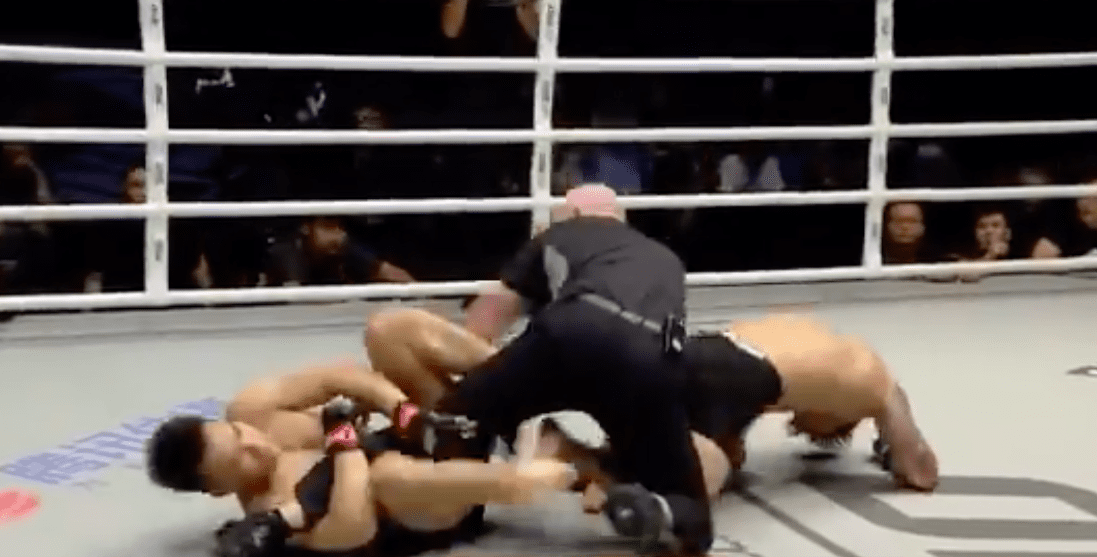 Fighters can react differently to having their bell rung. 
One reaction, probably the most common one, is to turtle up and make yourself as small as possible until a referee pulls your opponent from you. The other is to keep fighting but, as we have seen on several occasions in the past, it cane sometimes be a difficult for a fighter to distinguish between a referee and his or her opponent in those moments of confusion — and this is exactly what transpired when Ma Jia Wen took on Shinechagtga Zoltsetseg at ONE Championship: A New Tomorrow in Bangkok, Thailand, on Friday.
Wen was sent to the canvas with a clubbing right hand less than a minute into their fight, prompting referee Olivier Coste to intervene and call off the bout. Wen, though, wasn't quite done just yet.
Shinechagtga Zoltsetseg 🇲🇳 finishes "Cannon" Ma Jia Wen 🇨🇳 with a HUGE KNOCKOUT just 55 seconds into the first round! ⏱ #WeAreONE #ONEChampionship #ANewTomorrow pic.twitter.com/wKJKd6A3mK

— ONE Championship (@ONEChampionship) January 10, 2020
Seizing on the type of instincts honed by hours of practice on the mats, Wen attempts to secure a kneebar on someone, anyone, and it seems that the referee was the unlucky one.
Wen realised his mistake moments later and released the referee from the technique but, as one might expect, it has since gone viral.
Well… you win some, you lose some.
Comments
comments