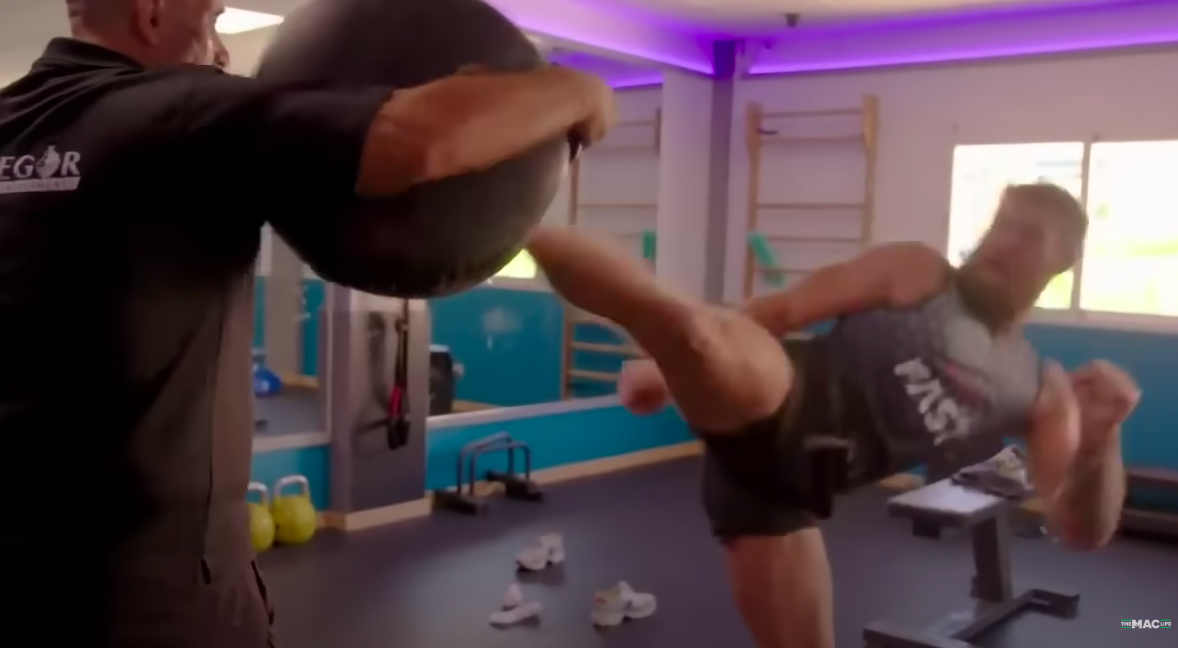 If the recent fight between Leon Edwards and Kamaru Usman proved one thing, it is that a properly-delivered head kick is among the most robust weapons in mixed martial arts — particularly if you can disguise the technique effectively.
Edwards' KO of Usman came with the kick disguised behind a left straight but in footage posted to social media, Conor McGregor showed off the blistering speed he can deliver high kicks without giving an opponent the necessary headspace to prepare a defence.
As he says: "I'm whipping my stock real tasty lately. Tastier than ever. Dya ever get a bang of a bike saddle at a oner? And the bike saddle starts as a whip? Ye that's it. Bye head. Now Ask yourself this. Can you whip up a head kick in a blink? Head kick like a jab? Why not, stupid? Can't even touch your toes you tick.
"I'm not even working low or to the body anymore. Get to the top of the mountain and work your way down is the way! The possibilities are limitless and opportunity endless when you can whip a high kick like a jab and do it out of nowhere and at any time. Think about it? To get that range and length and balance and whip you need to back pocket the lower tier kicks, guys. Free game on the house, kids. I kick this pad dead central and then I kick it above at the very top of the pad to demonstrate I can go way higher with ease. My stock is mr whippy."
McGregor, of course, used a similar technique to finish Donald Cerrone a couple of years back, and has also been hailed by fighters for the effectiveness of his teep kicks which can suck the wind out of opponents (ask Chad Mendes about that).
Check out the footage below:
–
Comments
comments