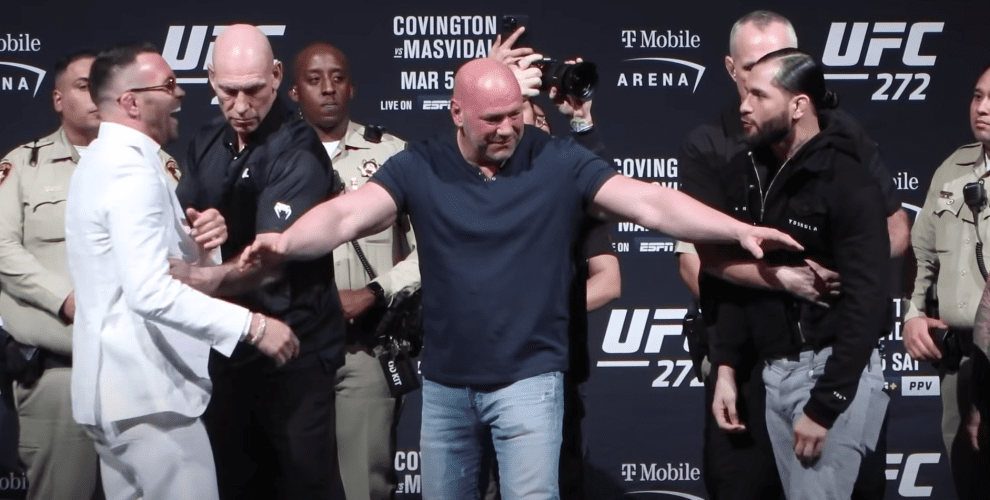 Did anyone expect this to be civilised?
After a years-long feud which began on the mats of American Top Team in Florida and graduated to social media callouts and online accusation, Jorge Masvidal and Colby Covington had an opportunity to state their side of the very public deterioration of their friendship at Thursday night's press conference in Las Vegas.
Instead, a chaotic 25-minute press event ensued, with both fighters trading back and forth insults about, among other things, who truly is Donald Trump's favourite fighter or, in perhaps the most oddly-set civics lesson ever to take place ahead of a fist-fight, insults about one party not fully understanding how a bill becomes law in the US legal system.
There was, though, occasional talk of fighting. Both main eventers were assuredly confident of victory as was stated on several occasions throughout.
Masvidal is, as Covington put it, a "bum" who will be "easy work". "You ain't gonna do s***, bro," retorted Masvidal. "Stop acting tough."
Simply put, the press event did little to add to acrimonious story between the two former friends but, as is always the case in situations like this, one will be proven wrong come the small hours of Saturday night.
And it will be fascinating to see.
–
Comments
comments