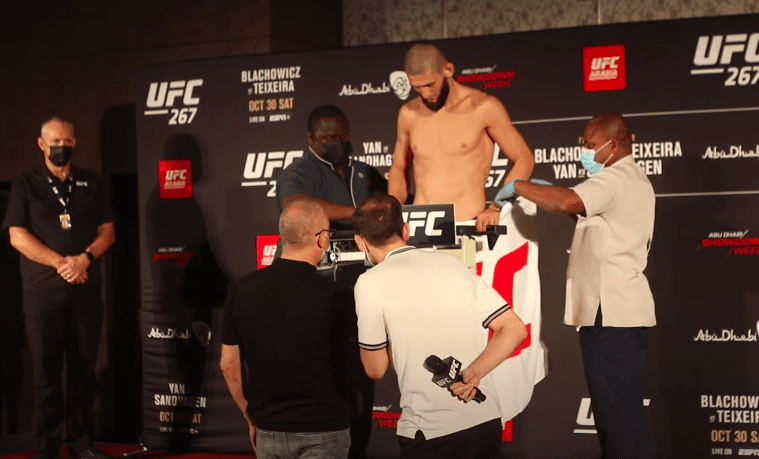 Another 'towelgate' incident appears to have struck at a dramatic UFC weigh-in in Abu Dhabi ahead of Saturday's UFC 267 fight card.
Chimaev was the final fighter to step on the scales with just minutes remaining in the weigh-in window on the eve of his fight with Li Jingliang, where he registered a weight of 171.5 pounds while appearing to hold the towel — a trick as old as weigh-ins themselves in a bid to artificially reduce one's weight. However, there were no complaints from officials and because Chimaev was a half pound over the non-title welterweight limit of 171-pounds, he was given an hour to drop that last half pound.
His second attempt saw more controversy. Chimaev, who was weighing-in behind a towel, again grabbed it as he stepped on the scales — with officials reading his weight as 166-pounds, some 5.5 pounds lighter than he less than an hour prior.
He again weighed in, this time with his hands in the air and was called at 171-pounds — meaning that he didn't miss weigh and his bout with Jingliang will proceed as planned.
Chimaev's tactics on the scales ahead of his first fight in 13 months, however, have led many to believe that he was attempting to deliberately cheat and obscure his true weight.
"One what? What is it?" UFC weigh-ins coordinator Heidi Dean could be heard saying in the footage. "Sixty-six? He lost five pounds?"
–
Comments
comments