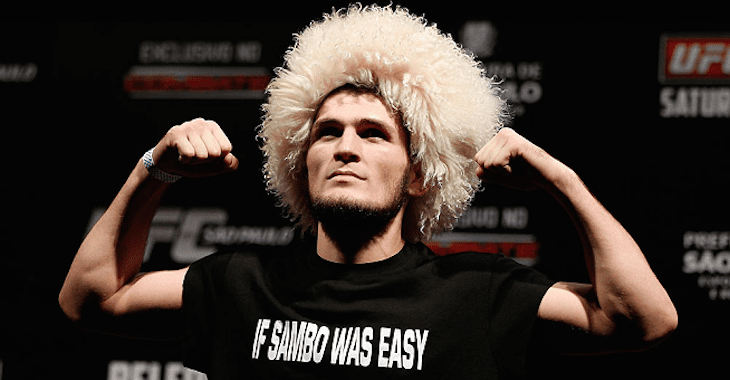 Khabib Nurmagomedov vs. Edson Barboza, on paper, appears as much a traditional striker vs. grappler match up as one can get in the modern UFC.
Ask both men if that's the case, however, and they'll firmly disagree. In fact, when asked at the UFC 219 media day if they consider the other man to hold the upper hand in their field, the duo made a point to say they felt as in control as their opponent should.
"I can stay with Edson Barboza on stand up," Nurmagomedov said. "I can stay with him. First round I think he's going to be little bit [faster] than me, but what happen when I make him tired. It's not like amateur, like two minute, two round fights."
"I'm mixed martial artist," he continued. "You know why I'm so good on wrestling? Because I'm very confident in my striking game. You cannot takedown somebody if you don't know how to punch, how punch is coming. If you don't have boxing skills, kick skills, you cannot takedown somebody."
For Barboza, he's in complete agreement. Any suggestion that he'll be at a disadvantage if he's taken down on Saturday, and he'll scoff at the idea.
"It's MMA fight," Barboza said. "I don't see it as [grappler vs. striker]. I'm prepared for wherever this fight goes. Like I said, I'm MMA fighter. I really believe in my coach, my coach said you're ready, wherever this fight goes, you're ready."
One of the Brazilian's most infamous weapons are exceptionally fast kicks. But while most would try to avoid throwing such a strike at a grappling heavy opponent, Barboza is unintimidated.
"I stopped two guys with lowkicks in the UFC," he said. "Both guys are grapplers. … it's the fight game. I have to see, you know? Sometimes I kick, sometimes I don't kick. Never know. Have to step into the Octagon and see what happens."
–
Comments
comments