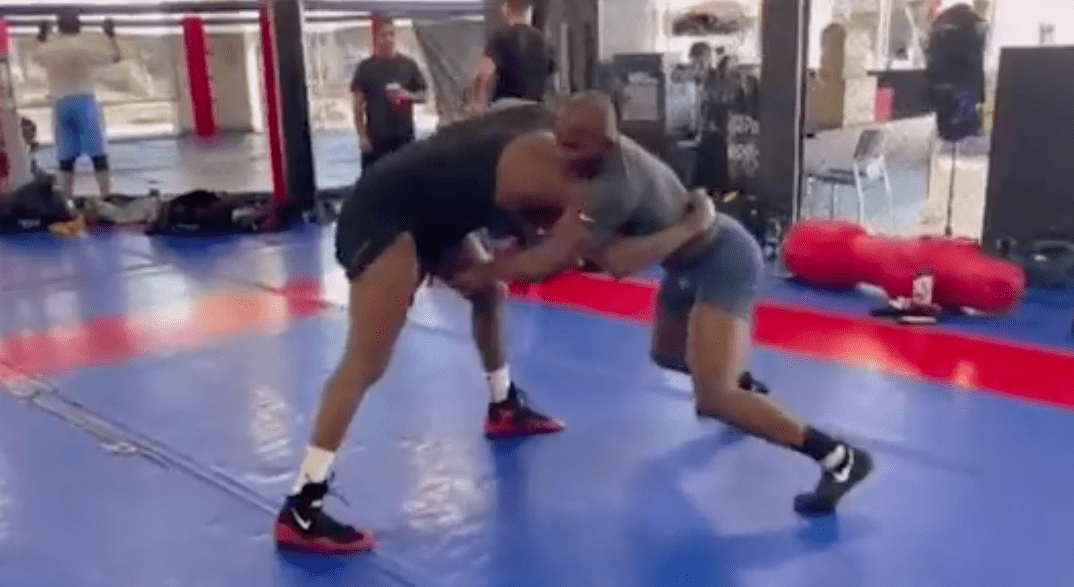 Jon Jones has long been known as one of the foremost MMA wrestlers in the sport. 
So much so, in fact, that when he was taken to the mat for the first time in his UFC career by Alexander Gustafsson in September 2013, it generated numerous headlines in the MMA press. He has only been taken down once more in his entire tenure with the company, against longtime rival Daniel Cormier — himself an Olympic calibre grappler.
But as that well-worn phrase goes, there are levels to this sh*t.
As part of a trip to Arizona where he spent time training with another Olympian, Henry Cejudo, Jones tangled with 2016 Olympic bronze medalist J'den Cox, with both men posting footage online from the training session.
View this post on Instagram
View this post on Instagram
"Sometimes you the hammer, sometimes you're the nail," wrote Jones on Instagram after the practice. "I'm humbled and grateful. Days like today will only make me better. Grateful to have the opportunity to work with some of the best athletes in the world."
"I had a great experience getting to wrestle and talk with [Jon Jones]," added Cox. "Also you can't go wrong with hanging around [Henry Cejudo]. It's fun being around legends."
I need some milk, J'den Cox just served me up some serious humble pie

— BONY (@JonnyBones) November 27, 2021
Jones also added on Twitter: "I need some milk, J'den Cox just served me up some serious humble pie."
The former longtime UFC light heavyweight champion, meanwhile, continues to ready himself ahead of his proposed heavyweight debut which is now expected to take place at some point in 2022 — and has been training at several different facilities after he was temporarily banned from the Jackson-Wink Academy in Albuquerque, New Mexico for a domestic violence arrest which took place in Las Vegas hours after he was inducted into the UFC Hall of Fame for his classic scrap with Gustafsson at UFC 165.
Comments
comments