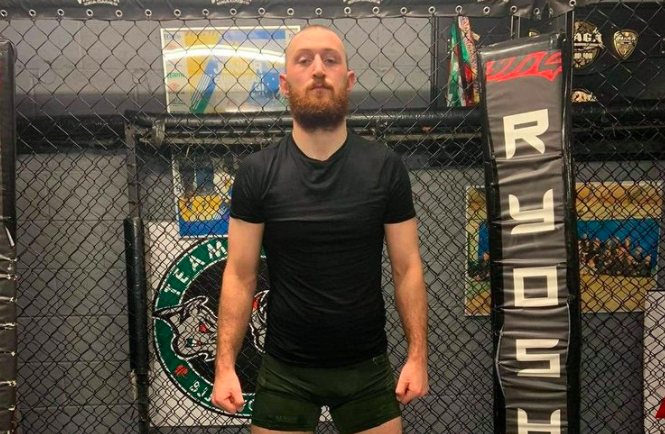 The Irish MMA and jiu jitsu community has rallied around Ian Coughlan, the one-time Bellator fighter who suffered a serious training injury several months ago which has left him requiring life-altering treatment in Germany. 
A GoFundMe campaign has been launched to raise the €73,000 funds required to pay for combined Stem Cell and HAL (Hybrid Assistive Limb) treatments which could greatly improve Coughlan's quality of life — and to help raise some much-needed money, SBG Ireland head coach John Kavanagh has announced the 'Unstoppable Seminar' which will take place in SBG HQ in Dublin on December 18th.
**CLICK HERE TO DONATE TO IAN'S GOFUNDME CAMPAIGN**
Anyone who donates to the campaign will be eligible to attend, while those who donate €100 or more will land themselves in a draw to win a 'swag bag' of rare UFC gear.
Attending the seminar will be Kavanagh, Team Ryano head Andy Ryan, UFC star Johnny Walker, Ultimate Fighter winner Brad Katona, Paul Redmond, Owen Roddy and several others — each of whom will pass on some of their unique martial arts wisdom to attendees.
You don't need to be a practicing martial artist, as the event will be open to people of all ages and skill levels — including absolute beginners.
And as Kavanagh notes in the below video, any donation will be warmly received so please give what you can even if you can't donate the requested €100.
View this post on Instagram
"The Irish MMA and jiu jitsu community will be well aware of the terrible injury that fantastic young fighter Ian Coughlan sustained in July that has left him paralysed. There is some light at the end of the tunnel with a treatment available to him in Germany that could get him back walking, or at the very least get him some independence as a young fighter needs," Kavanagh says in the video.
"To help with raising money for this procedure we're having a Super Seminar at SBG HQ on December 18th. It'll be going on pretty much all day from from 11am to 4pm. We have a great line-up. There'll be myself, Andy Ryan, Owen Roddy, Sergey [Pikulskiy], Johnny Walker, Brad Katona, Kieran Davern… I'm sure I'm missing a few others.
"What we're naming this is, it's going to be the 'Unstoppable Seminar'. Just like Ian's mentality, unstoppable. What I want the coaches to do is to show their three unstoppable techniques. For myself, I'm going to be showing an unstoppable guillotine, an unstoppable hook sweep and an unstoppable armbar.
"Let's see what the others come up with … I'm sure Andy Ryan will have some sort of judo throw which will be unstoppable.
"So what we're asking is that you donate €100 to the GoFundMe. For those outside of Ireland it will give you a chance to read about what Ian is going through, and hopefully you will donate too. For everybody that donates €100 of more you will be in a draw to win a serious swag bag. I have an official UFC corner bag which I will pack with t-shirts, with an SBG gi, some UFC gear — plus one of the walkout tracksuits I've worn for one of Conor's fights.
"If €100 is too much, I understand. So whatever you can afford would be greatly appreciated and that will give you a pass for the training day with all those coaches.
"We hope to get as many people as possible. Let's get everybody together… anybody that's in the vicinity of Dublin, it's for you. If you've got any interest in martial arts, come along and learn a couple of techniques. Everything will be done at a lighter pace. It's a fun training day.
"We're looking forward to this. The 'Unstoppable Seminar' raising some much needed funds for the unstoppable Ian Coughlan.
"Let's do this for him. Let's do this for his family. Let's show the strength of the MMA and martial arts community."
Comments
comments