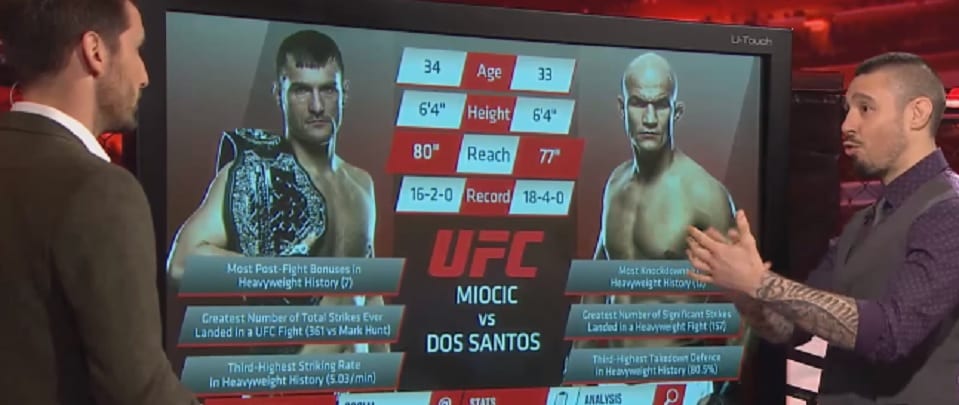 In just a few short days at UFC 211, one of the most anticipated heavyweight title matches in recent memory takes place as champion Stipe Miocic chases his second consecutive title defense (a rare feat, incidentally) against the last man to beat him Junior Dos Santos.
Miocic was bested in a back-and-forth bout when he last met Dos Santos at the tail end of 2014 and the intriguing question of whether his game has evolved to a level where he can out strike one of the divisions best boxers remains. Recent evidence suggests this isn't an impossibility.
In Miocic's run before, up to and after winning the UFC title from Fabricio Werdum, the Ohio native displayed a finely tuned and impressively concussive striking arsenal. His last four fights were all ended by Miocic's fist before the distance; the latter three all inside the first round.
It is sometimes said that, when it comes to rematches, all the pressure is on the fighter who won the first fight. Not so, in this case. The rough and tumble of the UFC's heavyweight fold has led to Dos Santos getting a title shot on the back of a decision win over Ben Rothwell but prior to that, 'Cigano' was just 2-3 in his previous five.
As ever with a high stakes contest such as this, there are myriad elements to consider and ponder before making your prediction and few are better than John Gooden and Dan Hardy at scything through a fight's key elements.
Watch the latest episode of Inside The Octagon below.
.
Comments
comments