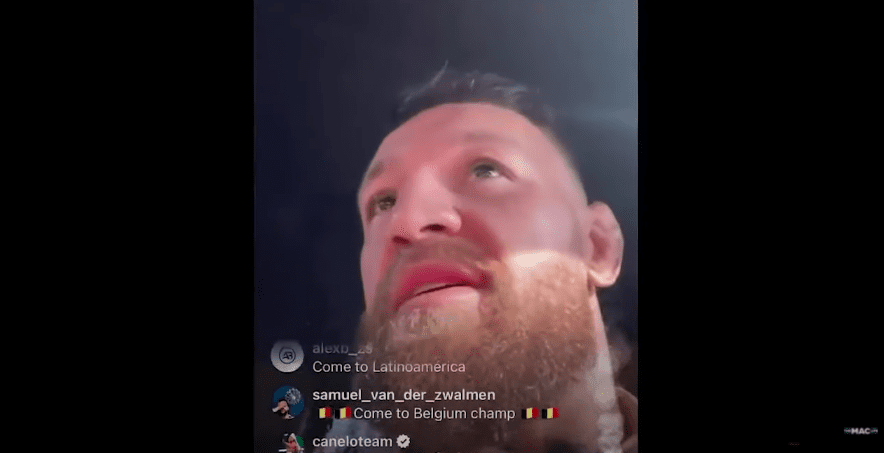 Conor McGregor remains in the United States as he recovers from his recent leg surgery and has updated his fan on how his recovery is going via in impromptu live chat on Instagram. 
At the time of posting the video, McGregor was en route to see a specialist where he will receive a scan which should shed further light on his timetable for recovery, but as you can see in the video below 'The Notorious' remains in typically confident form.
"I'm about ready to stand on this leg, that's for sure," McGregor said. "I feel like I can stand on it right now but they told me not to, until I get this scan now in the next couple of minutes and we'll see where we're at. We're gonna put together a plan.
"I'm feeling confident. I feel fresh, ready to go. Didn't lose much. Kept on my training. I've worked every muscle that I physically could around the leg just to keep everything switched on."
Recovering from injury can be an arduous process but McGregor says that rather than looking too far into the distance for goals and objectives, just take each day as it comes and go from there — a mindset he credits John Kavanagh with instilling in him.
"Just taking it day by day," McGregor explained. As my coach John says, 24 hours at a time. That's after helping me big time to be honest, that mindset. John always says take it 24 hours at a time.
"Even in my training for that last camp, we were mapping out three day runs on training and I'm on day one and I'm already sweating day three thinking, 'Oh no, I'm going to push it so hard for day one and day three I've got heavy sparring or heavy wrestling — and I'm dwelling on that day rather than living in the moment or focusing on the task at hand at the day at hand. So I only do things 24 hours at a time now. It's after helping me in my training, it's after helping me in my recovery. Shout out Coach Kavanagh for that one."
One person who chimed in to wish McGregor well during the Q&A session was Eddy Reynoso, the famed trainer of boxing pound-for-pound great Canelo Alvarez, with McGregor responding by saying that he hopes their schedules align one day in the future for some training.
"Big fan of your work and what you're doing with those guys in the gym. One day we'll get to train, I hope so. Like I said, I'm taking this 24 hours at a time. I'm confident but I'm going to take it day by day and see how this leg goes up. One thing is for sure, I'll be able to box. I'll be out here until mid-October I think, although I'll know after this scan how long I'll be here for. I'd love to get training with you sir sometime in the future. I'm sure we will. Thank you for the support."
Comments
comments