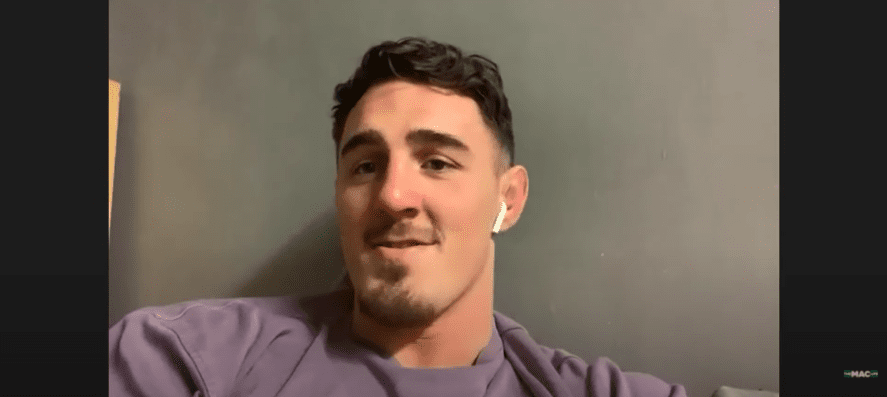 It perhaps came earlier than expected but three first-round finishes in four UFC fights is the type of form that the the organisation likes to showcase in its main event slots — and that exactly where Tom Aspinall finds himself ahead of his hometown headliner in London against Alexander Volkov. 
Aspinall, who at the age of 28 is one of the younger fighters on a UFC heavyweight roster filled with thirty-somethings, was booked to fight Shamil Abdurakhimov on March 19. That was until the UFC called him up with another proposal: a fight against another Russian, the higher ranked Volkov, at the top of the UFC's first card in three years.
And as he told Oscar Willis of The Mac Life, there was only one option.
"The fight came about in a bit of an unorthodox way, I would say. Not that I've been main event before obviously. I was on the card with Shamil [Abdurakhimov] and then one day they were just like, 'Look, do you want to fight Volkov instead in the main event?'" he explained "And I was like, 'Yep, will do. I'll have a bit of that.' I said what are the circumstances, they said we want to renew your contract. Then obviously we discussed the terms and we came to a term that I was very happy with."
Fighting in London is a dream for most UK fighters. But to main event? That's something extra special.
"Oh mate, unreal. Basically every interview that I've ever done I've always been like… 'I'm going to take it slow, one fight at a time'," He said. "But when you get offered a main event slot in your home country after there's been no events in the UK for three years. And they offer you the main event slot against a guy who you've been watching fight since he was the champ of Bellator. And a new contract. Come on bro!"
"I've been watching Volkov for the longest time. They're the guys… they make the hairs stand up on the back of my neck when I think about them kind of fights."
Aspinall says that he is under no illusions as to the scale of the task awaiting him in The O2 Arena in a couple of months. Volkov and his 43 pro fights gives him the edge in experience, but Aspinall says that he hasn't even begun to scratch the surface of what he is capable of in the cage.
"People are like, 'Be careful, massive step up.'" he said. "I fucking know. Trust me! I know more than anybody but obviously I believe I'm ready for that kind of opponent. I believe I can take out these guys. I know my skillset, I know how dangerous I am and I know most of all that all of the UFC heavyweight division have seen like 10 percent of what I can actually do. That's a massive advantage for me.
"No one has any idea really of what I can do."
UFC London takes place on March 19.
Comments
comments