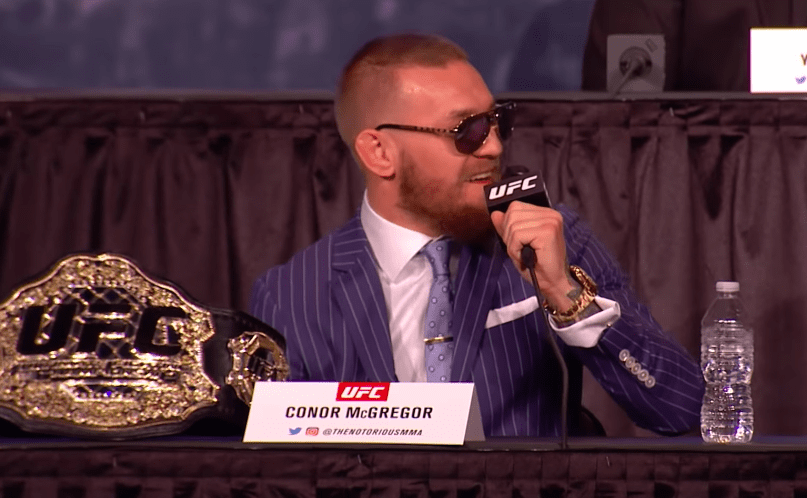 For the first time in well over a year, Conor McGregor will take centre stage in an official UFC fight week press conference ahead of this weekend's UFC 246 headliner against Donald Cerrone. 
The presser is slated for 11pm Irish time on Wednesday (more on that below) but before we look ahead, let's take a glance in the rear view mirror for some of the more memorable press conference appearances of McGregor's career. The silver-tongued Dubliner is one of the most enigmatic personalities in the history of mixed martial arts, slicing through an array of opponents with sequences of verbal barrages. In Donald Cerrone, McGregor will have a capable foe given his combative nature but rarely does anyone get the best of McGregor on the mic. See below for some of the best examples.
"Who the f*ck is that guy?"
Possibly the most infamous line every uttered at a UFC press conference was also one of the most savage. Ahead of McGregor's title-winning bid against Eddie Alvarez in late 2016, the UFC held a press conference to help promote their upcoming series of marquee matchups featuring some of the biggest names in the company — and this is exactly the type of situation in which the Irishman shines.
McGregor, sitting front and centre, was interrupted late on in the presser by a challenge from over his left shoulder from a fighter who renders people incapable of moving when he knocks them out. McGregor's response to Jeremy Stephens was a simple one, but it will be six words forever associated with that McGregor and the UFC:
"Who the f*ck is that guy?"
"Gods recognise Gods"
Ahead of what would ultimately turn out to be an ill-fated lightweight title challenge against then-champ Rafael Dos Anjos in early 2016 McGregor, who was just weeks removed from knocking out Jose Aldo in record time to claim his first undisputed UFC world title, made clear that he was looking to add to his collection of championship belts.
Asked to describe his religious beliefs, McGregor emphasised that he and Jesus are 'cool'.
"Me and Jesus are cool," McGregor said. "I'm cool with all the Gods. Gods recognise Gods."
"Guess f*cking what?! I back it up!"
At the UFC 'Go Big' presser (which is where McGregor first crossed horns with Donald Cerrone on a UFC stage), there was a narrative on the go during the Irishman's rise that he had been handed preferential matchmaking, that he never faced a wrestler and that he had used his mouth, or his promotional nous, to engineer opportunities for himself.
While all of those questions about matchmaking and wrestlers would eventually die down, McGregor's opposition to this particular narrative was evident when he lashed out, saying:
"People are always saying about the talk, and I talk, and I talk, and I talk… but guess f*cking what?! I back it up!"
"Three people died making this watch"
It seems a long time ago now but back in April 2013, fight fans who tuned into a UFC card from Stockholm in Sweden were greeted to a hint of a figure who would soon become one of the decade's defining figures. Not long after his now infamous "50 G's Baby!" line, McGregor delighted the reporters packed into the post-fight presser following his 67-second destruction of Marcus Brimage with a series of lines which could have come out of a stand-up comedy routine.
First he told the Dublin social welfare offices from where he had been collecting his dole just a week prior that he would have to tell them to "f*ck off", but it was his description of his style choices which drew the biggest laugh from the media that day.
"Custom made suits aren't cheap, you know what I mean? This sold gold pocket watch… three people died making this watch."
"He makes gun signs with the right hand and animal balloons with the left hand"
In the first of what would ultimately be two fiery press conferences in the span of a few months with Nate Diaz, McGregor rolled out a typically specific criticism of Diaz's character.
"I tell you, I like Nick's little bro. I do. He coaches kids Jiu Jitsu on a Sunday morning and goes on bike rides with the elderly. He makes gun signs with the right hand and animal balloons with the left hand."
"Break out the red panties"
The fact that a term as seemingly unrelated to fighting as 'Red Panty Night' has become known to be the best possible descriptor of Conor McGregor fight speaks to the seemingly never-ending list of witticisms at his command. This particular one came around the same time as his vocal evisceration of Jeremy Stephens, but this one was aimed at Rafael Dos Anjos (who was booked to fight Donald Cerrone incidentally).
McGregor asked Dos Anjos as to whether he would be amenable to the idea of dropping his fight with 'Cowboy' and instead facing him. RDA offered the tried and tested comeback of McGregor being 'easy money', but McGregor upped the cash narrative substantially with his riposte.
"Baby, we done it. We're rich, baby. Conor McGregor made us rich. Break out the red panties."

****
The UFC 246: McGregor vs. Cowboy press conference is due to begin at 1am (Irish time)/5pm (Pacific time). Stay tuned to TheMacLife for all the latest news, information and analysis ahead of UFC 246. 
Comments
comments