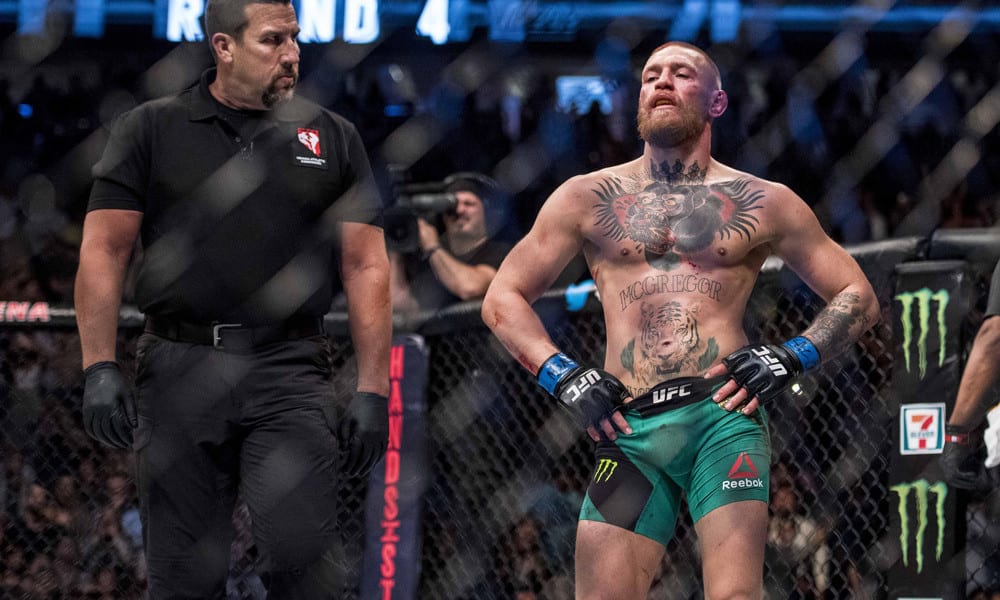 Conor McGregor's immediate future is locked into the T-Mobile Arena in Las Vegas this weekend where the Dubliner will make his long-awaited return to the Octagon against Donald Cerrone late on Saturday night but the promise of his 'season' of fights in 2020 has left a handful of open slots on his calendar.
McGregor has identified a handful of prospective opponents to potentially face later this year but the ever-changing landscape of mixed martial arts dictates that until a contract is signed, or indeed until the two fighters make their walk to the cage, that anything can happen when it comes to the UFC.
One man that McGregor says that he wouldn't be averse to rematching is Jose Aldo, the man from whom McGregor won his first undisputed UFC world title with a 13-second KO at UFC 194 a few years back. Aldo has recently made his debut at 135 pounds after a career forged at featherweight but prior to that move down a division, the Brazilian former champion had been continually linked with a move north to the lightweight division.
It remains to be seen if Aldo will continue with the weight-cut to 135, particularly after losing a close to decision to Marlon Moraes recently, but if he does decide to stoke the flames at lightweight there might be someone waiting for him.
"You never know, Aldo's coming back at me. Maybe, if he wants it," McGregor said to the media in Las Vegas on Tuesday.
"I thought he looked very well in his weight cut. I was very impressed. It takes complete discipline and dedication with that. Thought the bout was good with Marlon. I think once he switched on with that high kick it was a comfortable enough fight. I think he switched off at moments that made it close, but I think Aldo was the better fighter and should've won the fight.
"I wish Jose well. You never know, maybe down the line."
Of course, the first meeting between these two fighters was the final time that McGregor competed at featherweight and the Irishman is unsure if he wants to go down that path again.
"I don't know. I'm in a great spot not having to cut weight right now," he said. "It's easy for me to say, 'Ah yeah, I'll do it' but when you're cutting weight it's tough. That's why I have immense respect for Jose. The media were saying he's cutting too much weight. But I knew by his physique and his body he put immense work into that, I have an understanding of that because I know what it feels like. I'll never say never."
Comments
comments