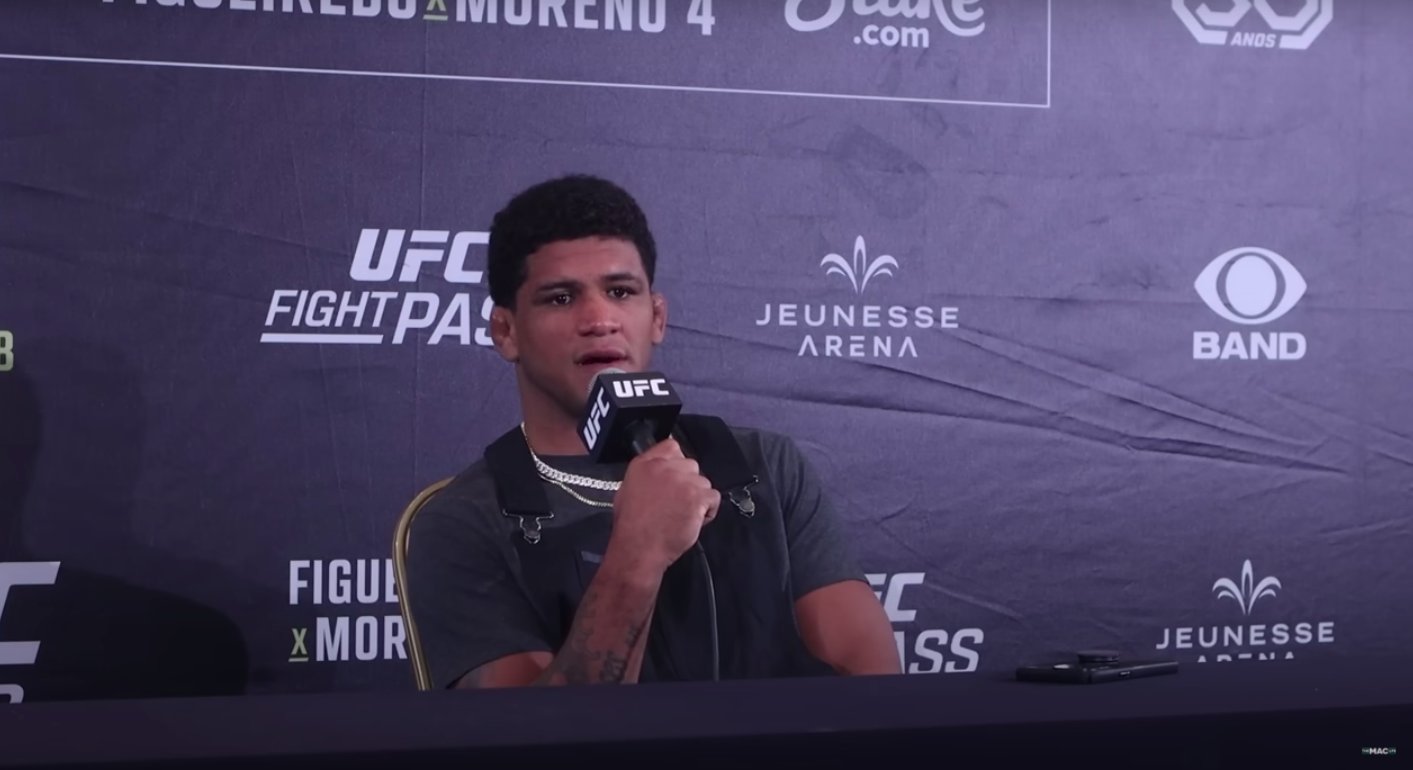 Gilbert Burns doesn't have to be asked twice to fight in his native country — but he admits that he is frustrated by his prolonged absence from the cage since last April's classic with Khamzat Chimaev.
Burns, who fights UFC veteran Neil Magny this Saturday night in Rio de Janeiro, told the media this week that he was chasing a fight with either Jorge Masvidal or Belal Muhammad in recent months but neither fight came to fruition, leading him to Magny — a fighter he is looking down the rankings ladder at.
But faced with a must-win fight, Burns says that he must put any frustrations to the back of his mind in his welterweight scrap with Magny, after which he says he can resume his hunt for some of the division's top-ranked fighters.
"I was frustrated because after the Khamzat fight," Burns said to The Mac Life. "I went to the office. I had a great meeting with Dana and Hunter. They said they were going to give me a big fight. We kind of got on the same page. The name was Masvidal. The fight was offered to November then December. Time was passing, then I saw they scheduled a card in Brazil. I said, 'I'm back in Brazil.' I said, 'You guys want me there?' They said, 'Yes.'
"So we got a fight here. I was just waiting for the opponent. They tried Masvidal. I don't know what happened. Then, they tried Belal Muhammad, too, but they didn't accept. I was so happy because I was watching that event and Neil Magny called me out. I just called Ali and texted Dana and said, 'Hey, if everyone says no, I'll fight this guy. I don't care.' It got to a point where, 'Just give me someone.' I'm happy that it's Neil Magny and he stepped up. I like that."
Burns also detailed frustration with the ranking system at 170-pounds after his spot was usurped by Belal Muhammad following his victory against the previously unbeaten Sean Brady last year.
"How the heck… Belal Muhammed beat Sean Brady, I have nothing to do with that, and he passes me in the rankings?" Burns noted.
"I got it. OK, he's got a couple wins. But he never beat me. Why did he take my place? And he declined the fight when they offered we fight each other here in Rio, 'Oh no.' Why no? Because he got my place but I think if he was still No. 5, he'd say, 'Yes.' That's one thing that I don't like. It's out of my control, but it's a little frustrating to me. How the f*ck did this guy pass me in the ranks? He never beat me and he doesn't want to fight me. Why?"
Burns, ranked fifth could potentially move ahead of Muhammad with a win against Magny this weekend but he admits doing so is easier said than done.
"He's very smart," he said of his opponent "I'm not overlooking this guy. I'm not passing Neil Magny, for sure. I think he's very tough. I give him all the credit. I'm thankful he stepped up and he's here in Brazil. I'm ready for a war if I have to go to it."
Comments
comments